SUMMER WOMEN'S SHORTS GUIDE



For us, women are as important as men. Their practice must be just as pleasant and efficient. This is why we have developed cycling shorts to meet all the expectations of these ladies. To follow up on our guides on winter cycling outfits, it's time for the G4 team to introduce you to our different women's cycling shorts for summer.
From aesthetics to comfort and different cuts, all of our women's cyclling shorts have been studied and developed to show you off. Performance is important, but also not central in our design concern! We create cycling outfits for women in which you have exceptional comfort and are highlighted. Our goal is to sublimate you.
You are probably wondering which cycling shorts meet your expectations? In any case, this is the most frequent question that we have to answer. This guide is made for that, to give you all the information necessary to elect THE shorts which you will not be able to do without. We rated our shorts according to very specific criteria.
COMPRESSION, COMFORT AND ENDURANCE.


COMPRESSION SHORTS



Let's start with our women's compression cycling shorts, the basis of our offer! This is exactly what you need ladies if you are looking for quality summer equipment with neat finishes. It will accompany you during the summer, or even mid-season with a good pair of legwarmers.
Its cut close to the body and its neat finishes will highlight you while bringing you unique comfort.
Its polyamide fabric offers excellent breathability. These women's cycling shorts do not have suspenders. However, its maintenance is no less effective! The elastic at the hips and the high cut of the shorts will be enough to maintain it.
Obviously, like all our women's shorts, it is equipped with our centerpiece ... The Pro 100 HD pad will give you unrivaled comfort even after several hours on the road. Our chamois is of course adapted to the morphology of women who do not have the same needs as men.
Note that these shorts have been declined in several colors for your greatest happiness, find it in: black, burgundy, green, brown or also in blue and orange with straps.
Characteristics
• Sheathing tape around the thigh.
• Stretch and compressive fabric
• Strapless.
• Reinforced pad for women.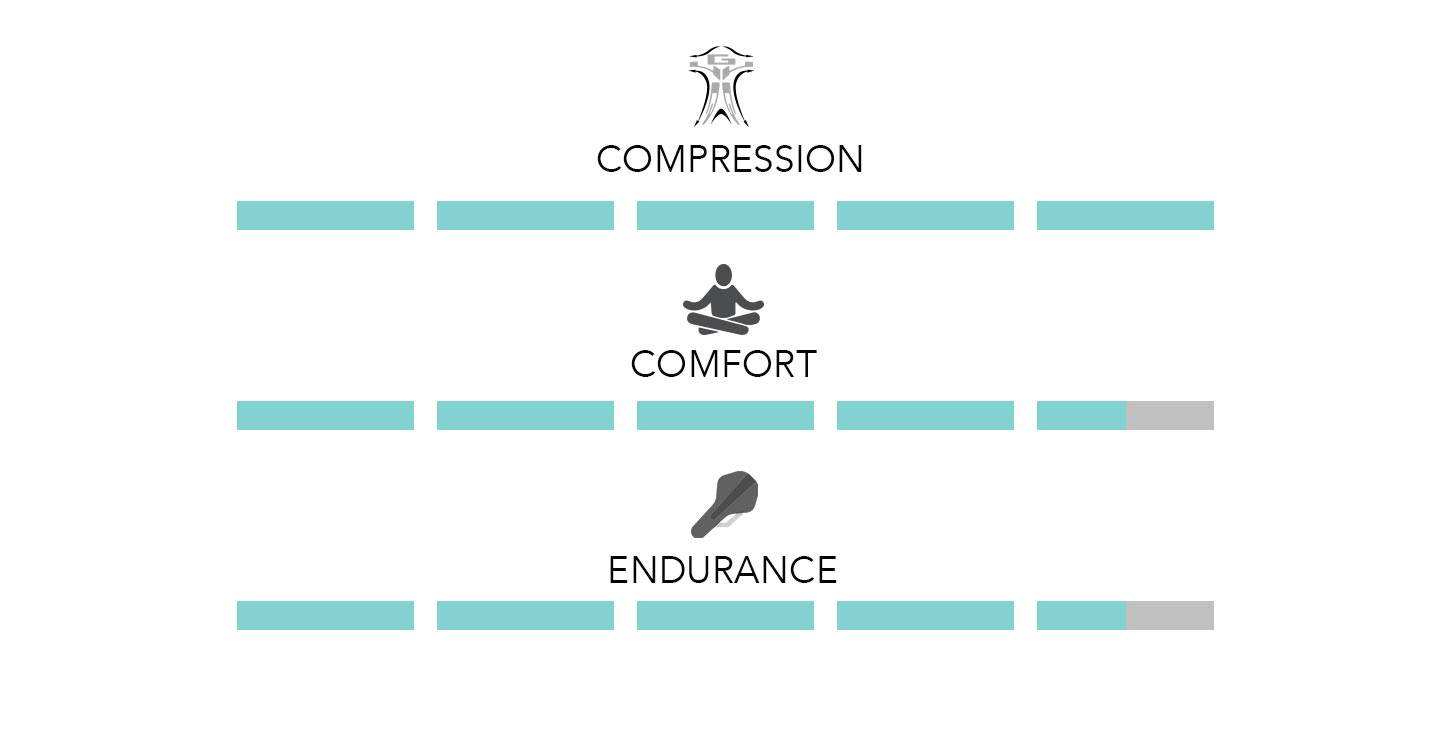 AURA BIB-SHORTS



The Aura cycling shorts are new for 2022. Featuring a new, more advanced technology it meets all the needs of ladies.
More technical than our black compression shorts, it is made of a different new generation fabric, the DragMesh™️. With its "scaly" side it provides you with maximum ventilation for your hottest rides due to its air channels, and high dimensional comfort.
Once again, the Aura shorts are cut close to the body to give you a unique look on your bike. The support system is the same as on the compression shorts, a high cut with an elastic fabric for a good support at the level of the hips and buttocks, but with a particularity more: that of the straps.
This Aura cycling short is also equipped with our special PROHD100 chamois for women.
Characteristics
• Dragmesh fabric.
• Structured Lycra fabric.
• With straps.
• Excellent breathability.
• Pro 100 HD pad.





LUXE SHORTS



The cycling shorts from the Luxe collection combine all the technicality of G4 to improve the performance and comfort of women on the bike.
Produced using two laser-structured compression fabrics, the Luxe woman cycling shorts are perfect for long summer outings. Its compression will be effective enough to reduce muscle fatigue.
These summer cycling shorts are cut so that they are even higher when worn. therefore the maintenance is close to perfection. at the thighs, there is a wider elastic than the previous shorts. This 7 cm elastic band homogenizes the pressure on the thigh. Comfort is only reinforced.
No straps either on this woman shorts! As we said, a high cut combined with an elastic fabric at the hips promotes support and enhances your figure.
Obviously, the Pro 100 HD pad woman specially developed and designed for you ladies is present on these cycling shorts for women.
Characteristics
• Lycra Sport fiber.
• Fast absorption and drying.
• Compressed tissue structured by laser.
• Pro 100 HD pad.


PRESTIGE BIB-SHORTS



The Prestige collection cycling shorts are a first for G4. Indeed, some asked us, we did it. These shorts are fitted with suspenders!
Produced with three different fabrics, the Prestige bib shorts are THE most upscale item in our women's collections.
The first fabric is our usual Power Gain fabric. It is completed by a laser structured fabric with an "embossed" effect for style. Finally, the elastic measures 7 cm as on our Luxe shorts for perfect support.
Speaking of support, the suspenders will have a major role. Very light and comfortable to wear, they will ensure the holding of the shorts during outings. Add to that our fairly high cut and our elastic at the hips for a more satisfactory result.
Once again, the Pro 100 HD female pad is present on this Prestige cycling shorts for women.
Characteristics
• Power Gain compression fabric.
• Fabric structured by laser.
• ergonomic shoulder straps.
• Pro 100 HD pad.