CLUBS WINTER OUTFITS
Cool temperatures are slowly settling, it's time to think about getting ready for the winter season.
Long jerseys, jackets, windvests, arm and leg warmers ... You can find all you need for your fight against cold!
Through this blog we will make you discover our different personalized equipment specially designed for the winter.
CUSTOMIZED WINDVESTS
What's more unpleasant than an icy wind during a long ride? Nothing!
TEAM WINDVEST
The Team Windvest: With its high collar, fitted cut, front protective membrane and ventilated fabric on the back this windvest is developed to protect you effectively against the wind without being too "heavy" to wear thanks to its ventilated tissue allowing you to not produce too much sweat.
The Team range that you find in our summer and winter equipment (jersey, bib shorts, jacket, tights ...) represents our basic offer in terms of cycling customization. A basic offering at G4 represents garments that are technically superior.
PRO WINDVEST
The Pro Windvest: With a front and back Teflon protector membrane and a light fabric that will protect you in the best way. Convenient and lightweight, your Pro Windvest fits easily into your shirt pocket and can be used at any time during your ride.
Of course with G4 products, security is also on our windshields with reflective strips allowing you to be visible when the night falls!
CUSTOMIZED JACKETS
Low temperatures are our main opponent during winter, difficult to keep a good training pace without good equipment!
FLASH & FLASH+ JACKETS
In winter, the weather is wet, rainy ... That's why we developed the Flash rain jacket.
Composed of a Gabba rain-proof waterproof fabric this jacket is water-repellent, the fabric used prevents water from penetrating inside the jacket. It allows a maximum sealing and thus to avoid all the problems related to low temperatures!
The breathability of the fabrics in this customized jacket makes it possible to be optimally protected during cool and dry conditions as well as not to "overheat" at higher temperatures.
The Flash range is available in two versions, one with short sleeves and the other one with long sleeves but both have the same technical characteristics.
THERMO JACKET
Our second model is the Thermo jacket developed for winter conditions. It's the perfect choice for cyclists looking for comfort, lightness and performance! This jacket is adapted to the extreme climatic conditions. Its Warm+ fabric and teflon protective membrane are its strengths that make it a piece of unique technicality for a customizable cycling jacket.
Geoffroy likes to say that a cycling outfit has to be innovative, that's why our outfits offers innovations in terms of design or used fabrics ... A cycling outfit is not anymore just an outfit but a real piece of "haute-couture" at G4. The research work is constantly renewed for the conception of outfits that are always at the forefront of technology and innovation.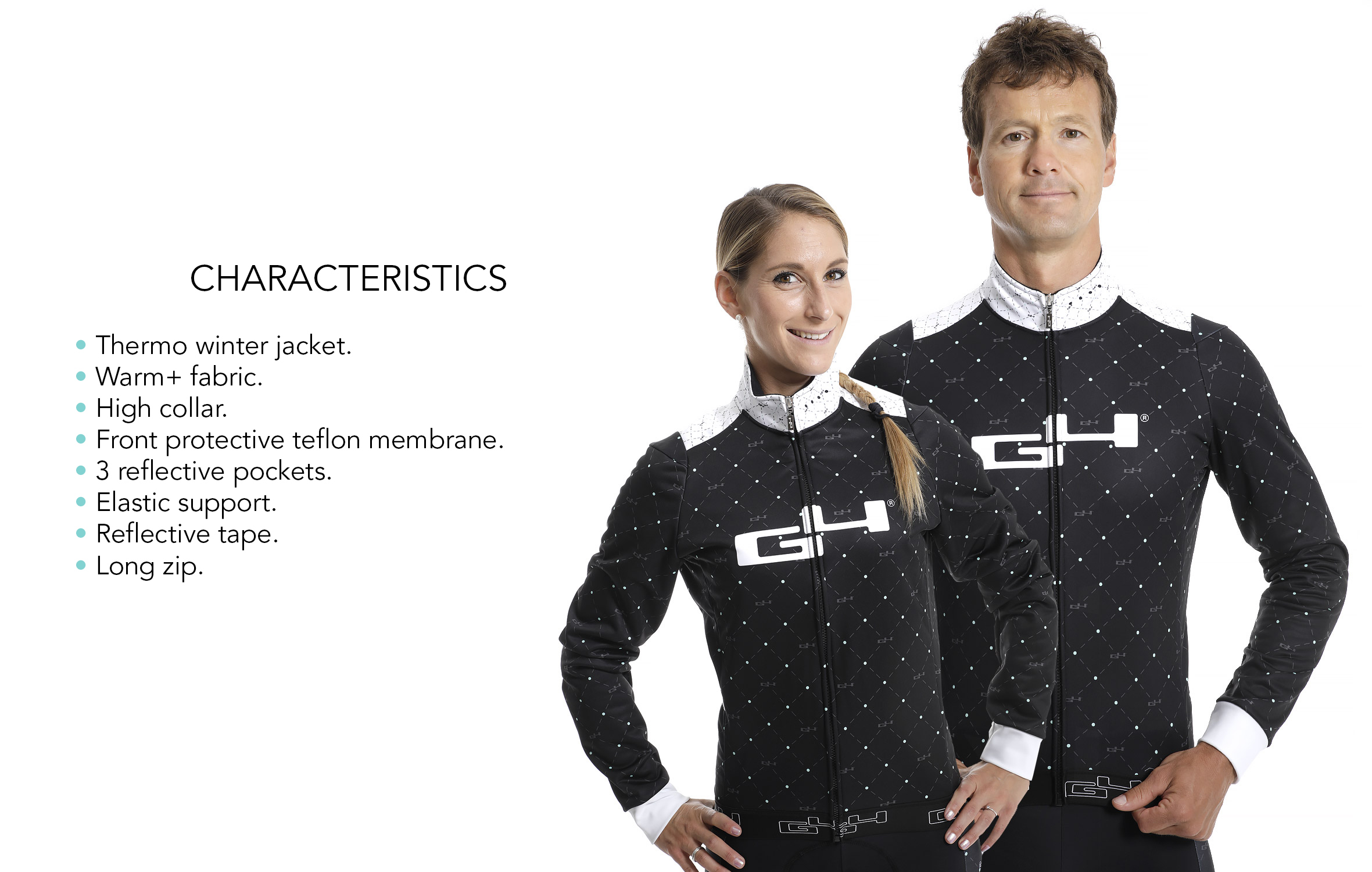 CUSTOMIZED TIGHTS
The tights are with the jacket the essential element for your winter rides, why? Just because they allow us to keep all our legs warm. Our Roubaix Lycra fabric allows this strong resistance while keeping a high level of comfort.
Like our Pro series bib-shorts, these Pro tights are equipped with our Pro 100 HD pad, the one that has built our reputation. In addition to the basic comfort thanks to the Roubaix Lycra fabric our pad will bring you comfort unchanged even after several hours on the saddle.
We also offer custom tights in our Team range. For this one, a Lombardia fabric less noble than Roubaix Lycra is used.
WARMERS
Without doubt the best alternative to be warm during the mid-season!
Developed to be real seconds skins, our arm and leg warmers are developed with an ultralight and stretch fabric. This fabric allows to keep a feeling of flexibility and freedom. The fiber also has a high capacity to evacuate perspiration to stay "dry" in all circumstances.
Practical, lightweight and ergonomic these custom warmers can be easily put in your pockets jersey and can therefore follow you in all your cycling adventures without taking up space.
CUSTOMIZABLE EQUIPMENTS
Of course, these equipments for clubs, teams, groups of friends are fully customizable according to your tastes and your opinions. You are free to choose in collaboration with our designer Geoffroy Lequatre colors, patterns and sponsors / logos that you want.
The contact is made directly with our teams and not through a simulation on our website, for an authentic approach of your projects.