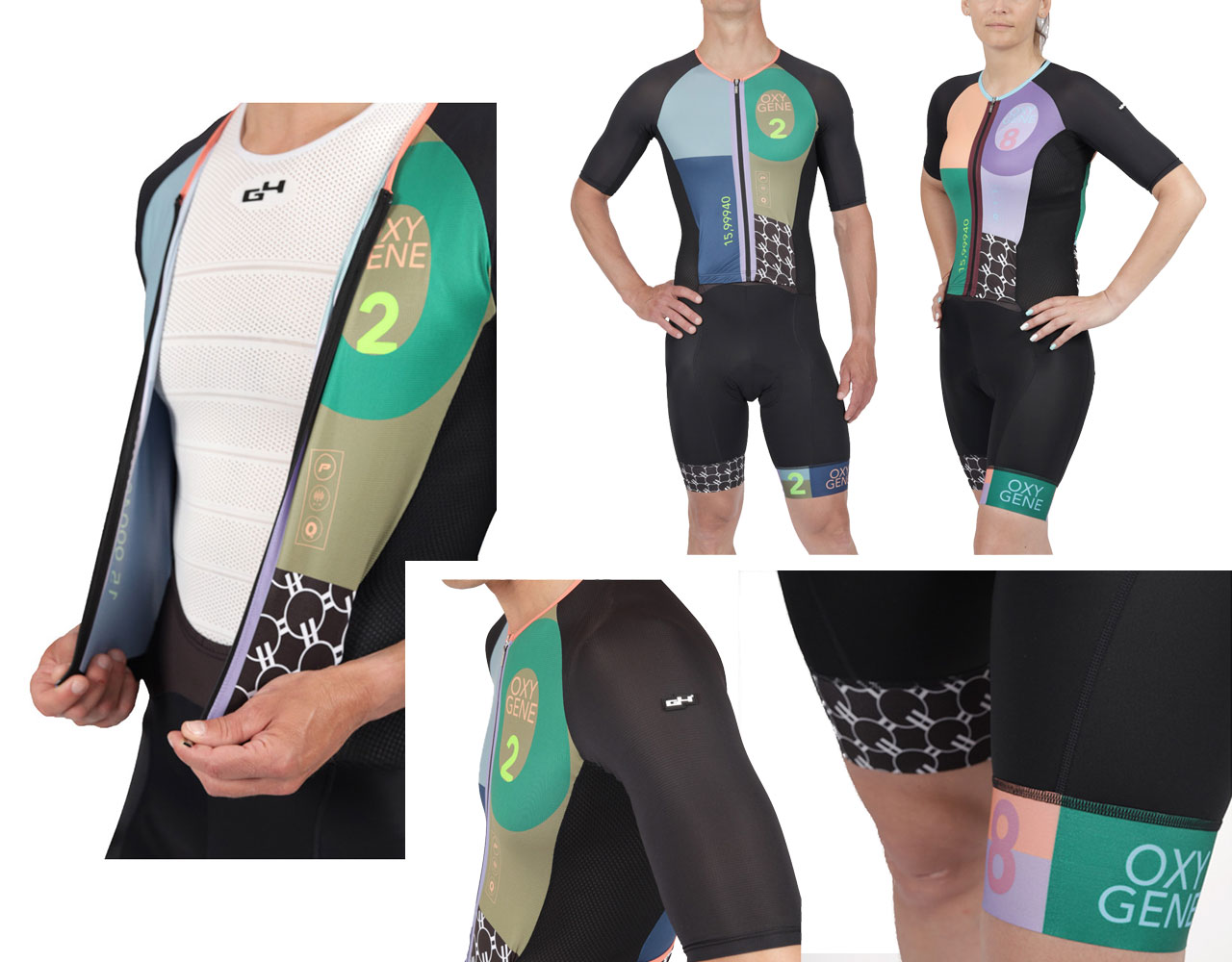 AN ATOMIC CREATIVITY
With this atypical cycling collection, G4 wants to surpass the limits and offer unique aero-performance suits that combine originality, performance and unique style.
A design 2.0 researched and innovative immersing the cyclist in the atomic universe of Oxygen, the capital element of the human being.
Molecules, geometric shapes and a range of sophisticated fabrics... discover the art of being elegant.
Trendy 2022 colors such as purple, artic blue, khaki green or sumptuous black come together beautifully.
Oxygen cycling suits are part of our Performance line of the most technical and professional cycling apparel on the market.
AN ATMOSPHERIC TECHNICALITY
A blend of new generation fabrics make up this Oxygen summer cycling collection.
The technical Luxor compressive fabric in the Men's and Women's suits has been laser heat etched to make the fabric even more compressive for improved performance.
An Oxygen suit that lives up to its name, as its Air3D ventilated fabric on the sides and under the arms gives you some of the best air circulation for a technical garment.
Finally, its PROHD100 pad, developed especially for men and women with different needs, provides optimal comfort in the saddle even after long, intensive hours.
Designed with 3 cargo pockets and one more for the women's cycling suit, to offer you a practical and stylish storage space.
A BREATH OF FRESH AIR
Oxygen is the most abundant element on the planet and the most essential for human beings to live.
It is a colorless, odorless, tasteless gas that is indispensable in the respiratory process.
Oxygen is a natural mystery with atomic number 8, density -182.96°C and symbol 0, which inspired us for this 3rd collection completing the universal elements.
Symbol : O
Atomic mass: 15.999 u
Electronic configuration: [He] 2s²2p⁴
CAS number: 7782-44-7
Atomic number: 8
Electronegativity: 3.44
Electrons per layer: 2, 6