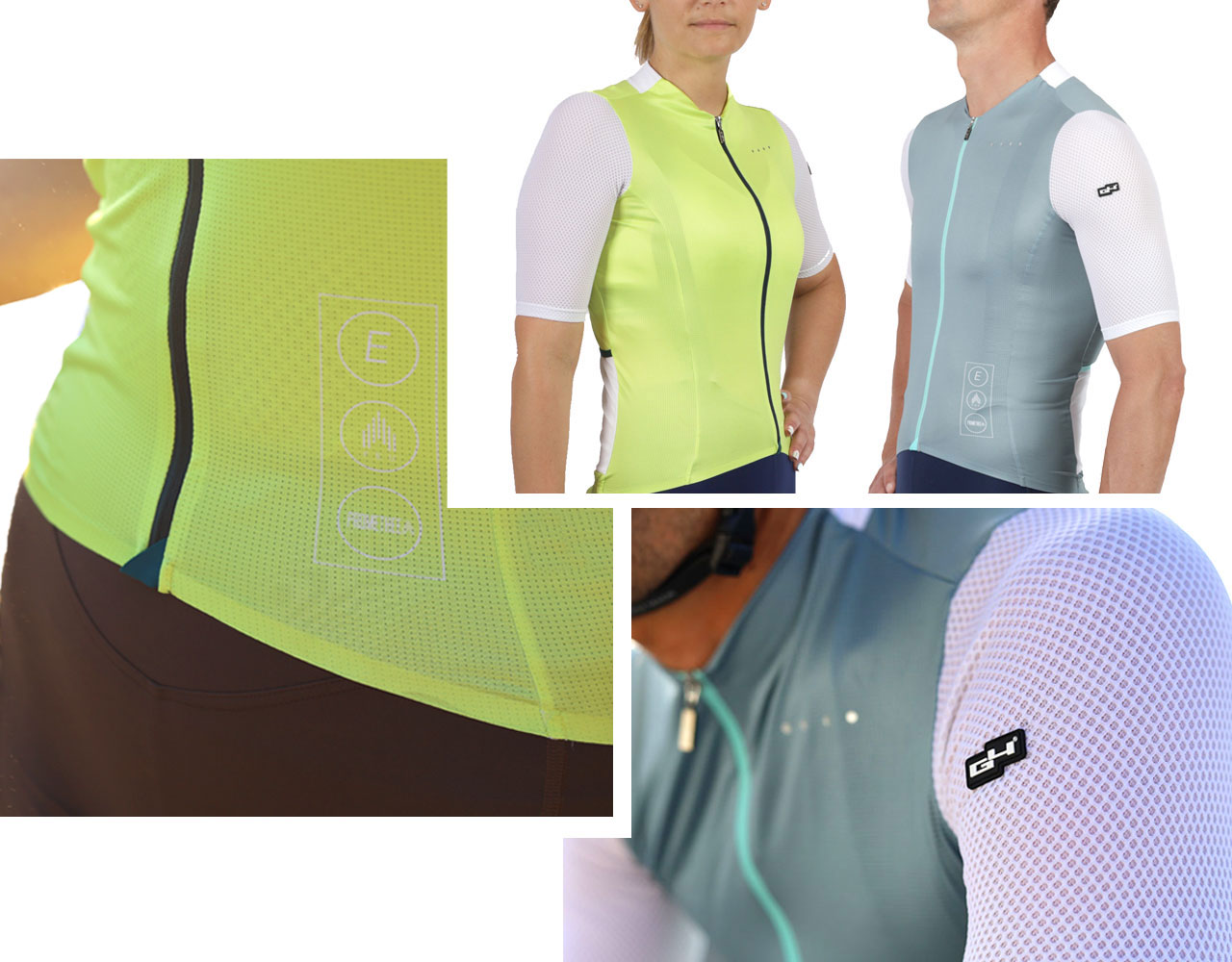 A FRESHLY ELEGANT COLLECTION
Clarity, transparency and vitality... Wear the colors of WATER!
For men, discover artic blue, the trend color of 2022! Blue, the color of infinite horizons, escape and travel.
For you ladies, the color lime yellow refers to the summer atmosphere and its sun rays. Yellow, the color of prosperity and energy, brings pep to your outings and cycling training.
Color to be seen on the road: G4 makes your safety its priority.
A simple, sophisticated and classy design, here is our will for this unique cycling collection.
Emoto is part of our Essential line. Essentiel is a collection of classic and timeless products that meet all the needs of cyclists in terms of comfort and aesthetically simple and neat appearance.
WITH A RAIN OF TECHNICALITY
As usual, G4 creates in technical prowess and performance.
For the cycling jerseys, it's a perfect combination of the softness of the Lightsquare fabric that wraps around the base of the jersey, and the lightness of the Air3D fabric on the sleeves that offers unprecedented airflow.
We opted for anatomical collars that rise up and without seams to obtain cycling jerseys close to the body that do not irritate and do not tighten.
Rear cargo pockets for refueling, a high-end zip with protection and 4-needle heat-sealed finishes.
Ride for hours with Emoto cycling jerseys in comfort, style and wellness.
THE DEPTH OF ULTIMATE COMFORT
Comfort is the word that characterizes the EMOTO unisex cycling collection.
In addition to its lightweight and high-performance jerseys, choose the matching men's and women's cycling shorts.
The ESSENTIEL compression shorts have been designed to offer universal products that can be adapted to all types of cycling needs.
The men's cycling bib-shorts provide an optimal degree of compression for the cyclist to improve performance. The anti-allergenic shoulder straps and breathable mesh fabric add to the comfort and unique pedaling freedom.
For women, some models of compression shorts do not have straps. They provide all the necessary support thanks to their anatomical cut that rises to the level of the stomach and adapts to all morphologies.
All of our G4 cycling shorts are equipped with our PROHD100 pad, which provides a high level of comfort never before seen on the cycling market.
EMOTO AND WATER CRYSTALS
Why an EMOTO collection?
The second element of our collection is WATER!
Masaru Emoto, a doctor of alternative medicine, revolutionized the question of the power of water.
He conducted studies on the mysteries of water after discovering the MRA (Magnetic Resonance Analyzer) and microcluster water in the United States.
Emoto Masaru's research proves that water retains information and therefore has an exceptional memory. He also proves that water reacts not only to vibrations and sounds, but also to words and images conveying emotions, and to intentions expressed by our thoughts.
He assumes that we are composed of 70% water and that our body resonates in unison with the vibrations we send it.
Without water... no life. "Water is a true miracle!"