SUMMER MEN'S BIB-SHORTS GUIDE



To follow up on our guides on G4 cycling tights and jackets, today we invite you to know everything about our men's summer shorts.
We can already separate our shorts into two groups. The first are our black shorts which will go with all the cycling jerseys designed by Geoffroy. The second group will linger on our collection shorts, those who have a matching jersey.
Which G4 summer shorts are right for you? This is surely the question you ask yourself when browsing our website. In this guide, all the elements are brought together to find the ONE that meets all your expectations. This shorts guide is made to guide you in your choice with very precise scoring criteria.
Compression, Comfort & Endurance.





AURA BIB-SHORTS

The Aura cycling bib-shorts are the big news this summer! A new innovation on the cycling market with a revolutionary fabric: the Dragmesh! This "scaled" effect, structured by laser, allows a great circulation of air through small channels which makes the bib-shorts ultra breathable and ventilated for your comfort during the hottest rides of the summer.
The lightest lycra straps on the market, elastic and anti-allergenic, provide excellent shoulder support and comfort like a second skin without irritation.
The PROHD100 pad from G4 perfects this long-lasting comfort on the bike thanks to its breathable, aerodynamic and hypoallergenic double-cell foam design that absorbs all shocks.
Characteristics
Innovation Dragmesh fabric.
High performance air channels.
 Anti-allergenic straps.
 UV50+ treatment.
 G4 PROHD100 pad.


HYPE BIB-SHORTS

Classic, stylish and high performance, the new Hype summer bib shorts have it all. As you know, G4's ultimate goal is to achieve the perfection expected by customers looking for style and performance on their bikes.
With four innovative performance fabrics, Hype is the must-have cycling bib-shorts of the summer of 2021. Discover the latest generation warp and weft fabric tested in a wind tunnel and never before used in the world of cycling: DynamicMesh with surprising characteristics.
Technical, comfortable, sophisticated and bold ... These new Hype bib-shorts have all the features you need to be a central part of your cycling wardrobe.
Characteristics
 Technical DynamicMesh fabric.
 Lightweight LuxorSport fabric.
 Anti-allergenic straps.
 UV50+ treatment.
 G4 PROHD100 pad.


RETRO BIB-SHORTS



Retro is the G4 collection that pays homage to the fashion of the 60's, the era of baroque and "retro chic" style. With its cedar green color and its latest generation fabric, the Retro bib-shorts will be your perfect summer companion.
Designed with a Powergain compression fabric and Lycra®Sport technical fiber that is highly regarded for its comfort and lightness.
And that's not all, the straps of these Retro bib-shorts are stretchy, anti-allergenic and adapt to different body shapes. Then, like all our bib-shorts, it is equipped with our masterpiece ... The PROHD100 pad that will provide you with unparalleled comfort even after several hours in the saddle regardless of the weather. Note that it is one of the best chamois leather on the market.
Characteristics
 Targeted compression effect.
 Lightweight, anti-allergenic straps.
 Lightweight, high-performance fabrics.
 UV 50+ treatment.
 G4 PROHD100 pad.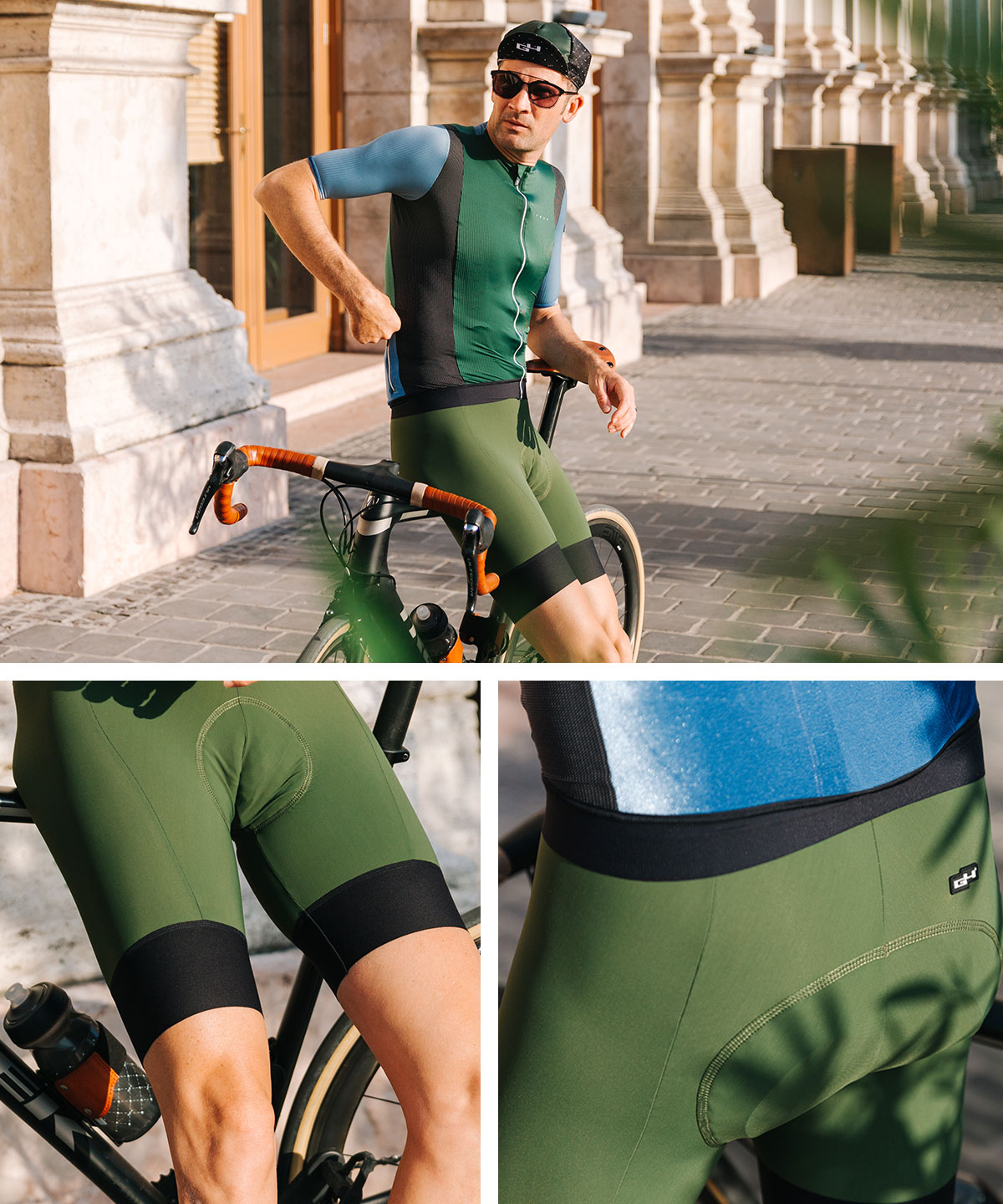 COMPRESSION BIB-SHORTS



The Compression summer bib-short are the basic of our offer! It is the perfect companion for cycling enthusiasts looking for quality summer equipment with good finitions. He will accompany you all summer and even in mid-season with a pair of leg warmers.
Its stretch polyamide fabric allows it to offer excellent breathability as well as slight compression to promote blood circulation. The fabric is also UV 50 treated, it will protect you from the most harmful rays of the sun. Apart from the fabric, these summer cycling shorts are fitted with anatomical straps that are perfect for keeping your cycling shorts during exercise.
Then, like all our shorts, it is equipped with our centerpiece ... The Pro 100 HD pad. It will give you unequaled comfort even after several hours of riding whatever the weather. Note that this is one of the best pad in the market. Finally, the technicalities of these shorts have been reproduced in some of our collections like the Mediterranean or national.
Characteristics
Hydrophilic and stretch fabric.
UV50 treatment.
Stretch exterior seams.
Pro 100 HD Pad.





INSTINCT BIB-SHORTS



The Instinct cycling shorts are the most technical piece ever offered by G4.
More technical than our Simply shorts, it is made of three different fabrics. A 4-way fabric cut by laser (for maximum ventilation. A ceramic fabric at the level of the seat (to prevent any irritation when pedaling). And the light and compressive fabric of the elastic for perfect support.
The Instinct cycling shorts have been designed for the most demanding cyclists in terms of technicality and innovation. Designed to withstand the heaviest heat, it will accompany you on your longest and most arduous outings.
The elastic of the Distinguished cycling shorts is wider than the Simply cycling shorts. The compression on the thigh is therefore more homogeneous and effective.
Characteristics
4 Way Fiber.
Lycra sport fiber.
sensitive suspenders.
UV 50 treatment.
Targeted compression effect.
Pro 100 HD pad.





LUXE & NICE 1920 BIB-SHORTS



Our Luxe summer shorts are the most upscale of our black shorts. It combines all G4 technicality for comfort, elegance and flawless performance. Beautiful, light and well designed, these amazing summer bib-shorts push high-end cycling standards.
It is therefore more resistant and durable than the Compression shorts. With a LUXOR fabric with laser finishes, the Luxe shorts are certainly the most compressive of the G4 ranges. This compression phenomenon will promote blood circulation and therefore delay muscle fatigue. Its 7cm elastic will be ideal for your long summer outings.
Technical, comfortable, elegant ... It has all the characteristics necessary to be part of your cycling wardrobe.
The Nice 1920 cycling bib-shorts were built on the basis of a Luxe bib-shorts with a minimalist Nice 1920 flocking.
Characteristics
Very targeted compression effect.
Anti-allergenic suspenders.
Laser structured Lycra fiber
Fast absorption and drying.
UV50 + treatment.
Pro 100 HD pad.


PRESTIGE WHITE & BLACK BIB-SHORTS



Here is the very first white shorts from G4, Prestige. Available in two colors, it will sublimate you whatever your choice. developed on the example of the Luxe shorts, are fabric with laser finishes for better compression has a very elegant "embossed" effect.
With its wide elastic and very anatomical cut, our Prestige bib-shorts are designed for long distances. Its white and black colors go perfectly with the Prestige jersey but also with other G4 pieces.
Prestige will become your most faithful traveling companion. Once tried, you will not be able to do it without it.
Characteristics
PowerGain fabric
Laser finish fabric.
Very elegant embossed effect
Fast absorption and drying.
UV50 + treatment.
Pro 100 HD pad.





COMMUNITY ATTITUDE BIB-SHORTS



The Attitude Cycling bib-shorts were created exclusively for our community club members. We offer you a privileged link and membership to the Attitude Cycling Club: a community club created to share with you a common spirit and a common passion for cycling.
Designed with an ultra-stretchy and compressive fabric to ensure a better blood return to optimize performance during intensive efforts.
The PROHD100 pad is integrated into the G4 cycling bib- shorts, providing unparalleled comfort in the saddle without irritation even after hours of riding.
G4 has decided this year to renew its official Attitude Cycling Club outfit! This year 2021 we offer you a pale and trendy outfit for a naturally elegant look!
Characteristics
 Compressive fabric for a sheathing effect.
 Aerodynamic cut close to the body.
 Laser-cut fabrics for a perfect finish.
 Strong and comfortable support straps.
 UV 50 treatment.
 G4 PROHD100 pad.