G4 official partner of the Tour des Alpes-Maritimes et du Var

G4 is proud to be an official partner of the Tour des Alpes-Maritimes et du Var for their 55th edition. A colorful partnership since the Tour 06-83 is one of the only professional cycling events in the region with Paris Nice. This links us even more with this race since G4 has as founder Geoffroy Lequatre, a former professional cyclist, with several participations in these historic races.
The Tour 06-83 55th edition will take place over three days, from February 17th to 19th 2023. A major international sporting event during which the best professional cyclists in the world will ride more than 500 km through the most beautiful towns and villages of the Alpes-Maritimes and the Var.
Crédit Photo @dylanmeiffret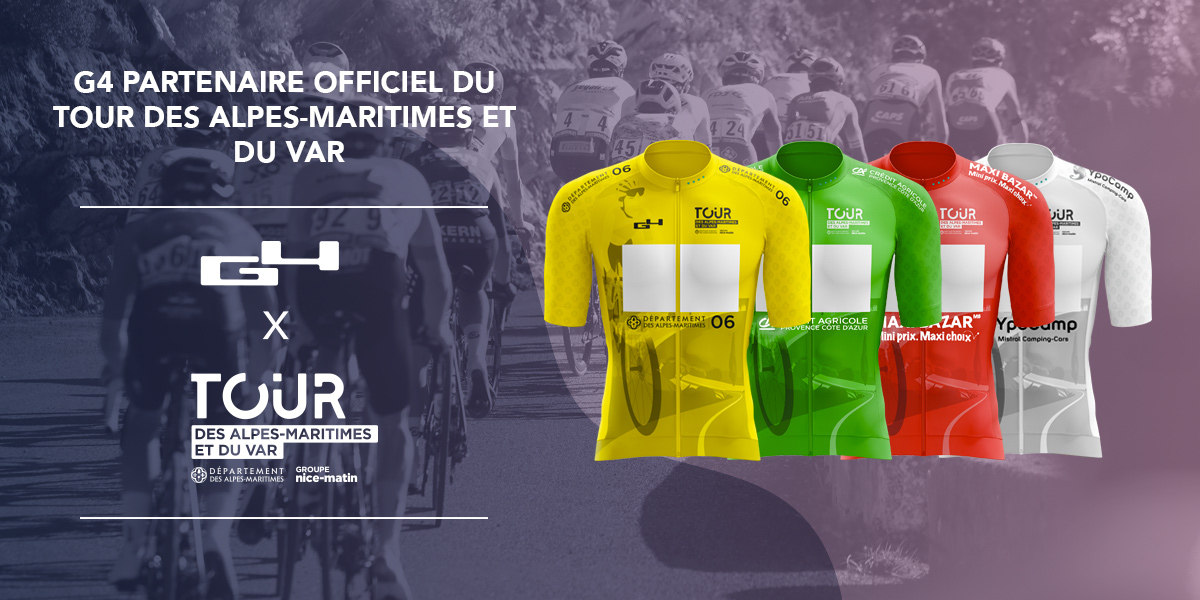 The G4 x Le Tour 06-83 collection

As an official partner, G4 has created a line of apparel and accessories for the general public. A high quality equipment reflecting the DNA of the G4 brand, elegance, performance, all in the effigy of the Tour 06-83 dedicated to those who want to wear the colors of the race and support the professional riders.
These G4 x Le Tour 06-83 creations will be available for pre-order on our website from the 26th of January 2023. You will be delivered from February 17th during the launch of the Tour des Alpes Maritimes et du Var. You can also buy all these products during the event on the merchandising stand of the event..
Our knowledge at the service of the Tour's leaders

G4 has the great pleasure of making the four leaders' jerseys for the 06-83 Tour. Always in the spirit of elegant performance, the leaders will benefit from high-end jerseys with a sporty and competitive cut, just like their career as a professional cyclist, but always with elegance and the creative spirit of G4.
Discover the print inspired by the visual of the Tour 06-83 campaigns.
Four jerseys, four colors, for four leaders !
- The yellow leader's jersey
- The red jersey for the best climber
- The white jersey for the best young rider
- The green jersey for the best sprinter