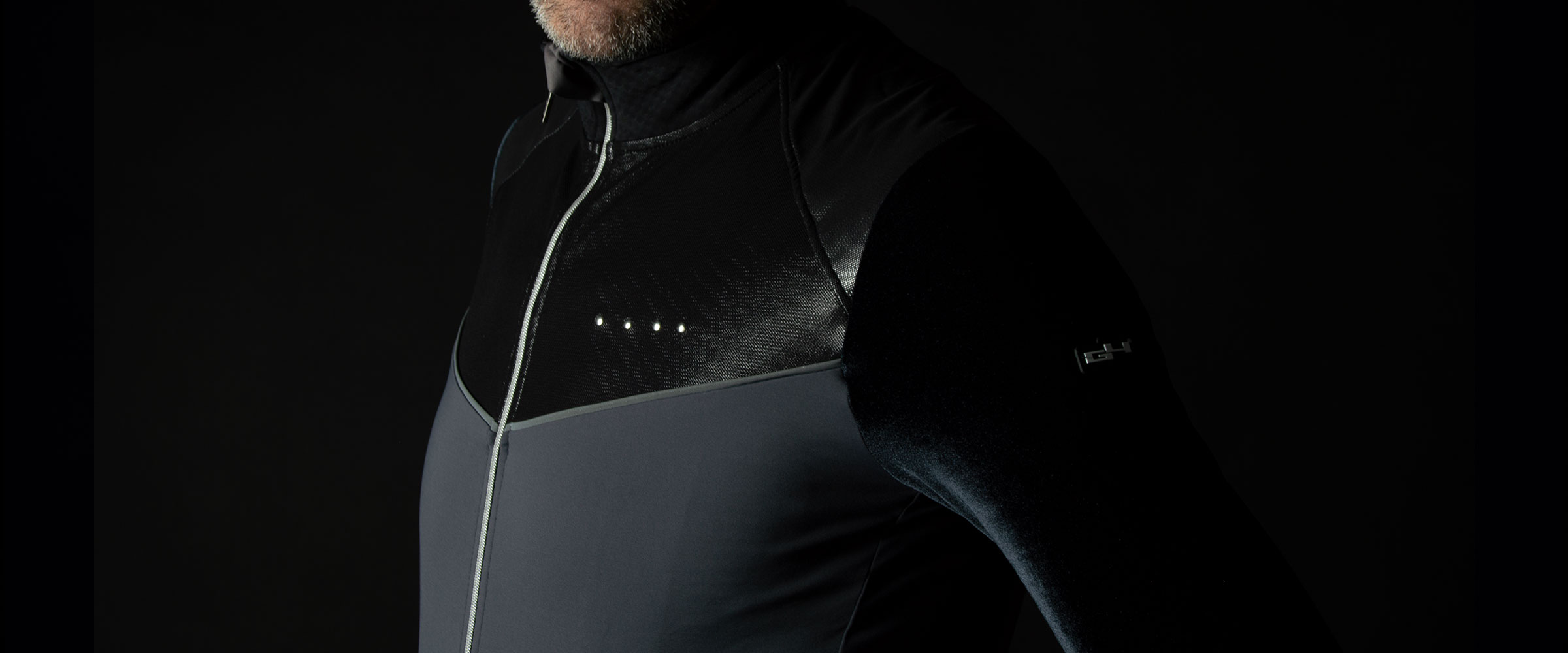 NEW VOGUE WINTER LONG SLEEVE CYCLING JERSEY!

Haute couture cycling fashion and technical know-how of a pro!
The VOGUE long sleeve cycling jersey is a true sport fashion garment that uses the classic codes of high fashion.
Windproof, insulating and comfortable, Vogue is the perfect cycling jersey for this winter.
It will bring you softness thanks to its sporty velvet fabric and protection against the winter cold thanks to its technical windproof design.
The anthracite grey, a prestigious and refined color that will bring all its elegance to your winter cycling outfit and that will perfectly match with every cycling garment and accessory in your wardrobe.
AN INNOVATIVE TECHNICALITY 

High fashion and also performance and quality!
Our 100% Italian technical fabrics are full of amazing features to give you the perfect comfort and the best performance on the bike.
The VOGUE collection was created with the same technical characteristics as the Energy cycling jersey. Two top of the line cycling jerseys that are protective, comfortable and light, ideal for this winter season!
On the torso and back of the long sleeve cycling jersey, we placed a protective windproof fabric to block the cold and keep your body warm during the effort on the bike.
On the inside, you'll feel the exquisite softness of the INSTINCT fleece and thermal insulation.
In addition, you'll find reflective details for visibility on the road, meticulously integrated into the seams of the winter cycling jersey.
VELVET AND SOFTNESS

Velvet, the symbol of elegance and primacy!
It is THE glamorous and sophisticated touch of our new Fall / Winter 21-22 cycling collections. Never before seen in the world of cycling!
Discover the technical Velours Sport fabric on the sleeves and back pockets!
Our goal with this velvet fabric is to bring a parallel dimension to cycling clothing that has never been reached before.
A special dimension where high fashion and the world of cycling come together and become one.
VOGUE TO NEW HORIZONS!

Wear the sobriety, elegance and class of the G4!
A new winter long sleeve cycling jersey in countless shades of grey and black that will sublimate each and every one of you on the bike.
Grey and black, the colors of excellence and perfection! Sublimated by our 4 small discreet G4 rivets, a nicely silvered zipper and its 4 beautiful pockets at the back.
The VOGUE windbreaker jersey will perfectly match all your cycling clothes and accessories in your wardrobe, a sure value to have for this winter!
THE COMPLETE PERFECT EQUIPMENT!

For a perfect all-around outfit this winter, complete your new Vogue winter grey cycling jersey with a pair of thermal winter tights!
For men or women, discover the new collection of black CHEKMATE cycling tights that are warm, ultra comfortable thanks to their PROHD100 pad (suitable for men or women) and refined.
A complete equipment for this winter will bring you to performant and surprising bike rides thanks to these long black winter shorts!