A BAROQUE STYLE OUTFIT
This new retro cycling collection is the very symbol of Italian class!
A little bike break on the terrace, a coffee in hand; this ultra trendy cycling outfit will make your every move elegant and sophisticated. G4 wanted to create a summer collection with a retro chic style and fresh colors from green to blue and burgundy!
Discover the new bike outfit for men and women and pedal on the roads in retro mode!
THE COMPLETE OUTFIT
The complete Retro cycling outfit includes the cycling jersey, the technical shorts and the horizon blue or forest green socks, ultra stylish and anti bacterial!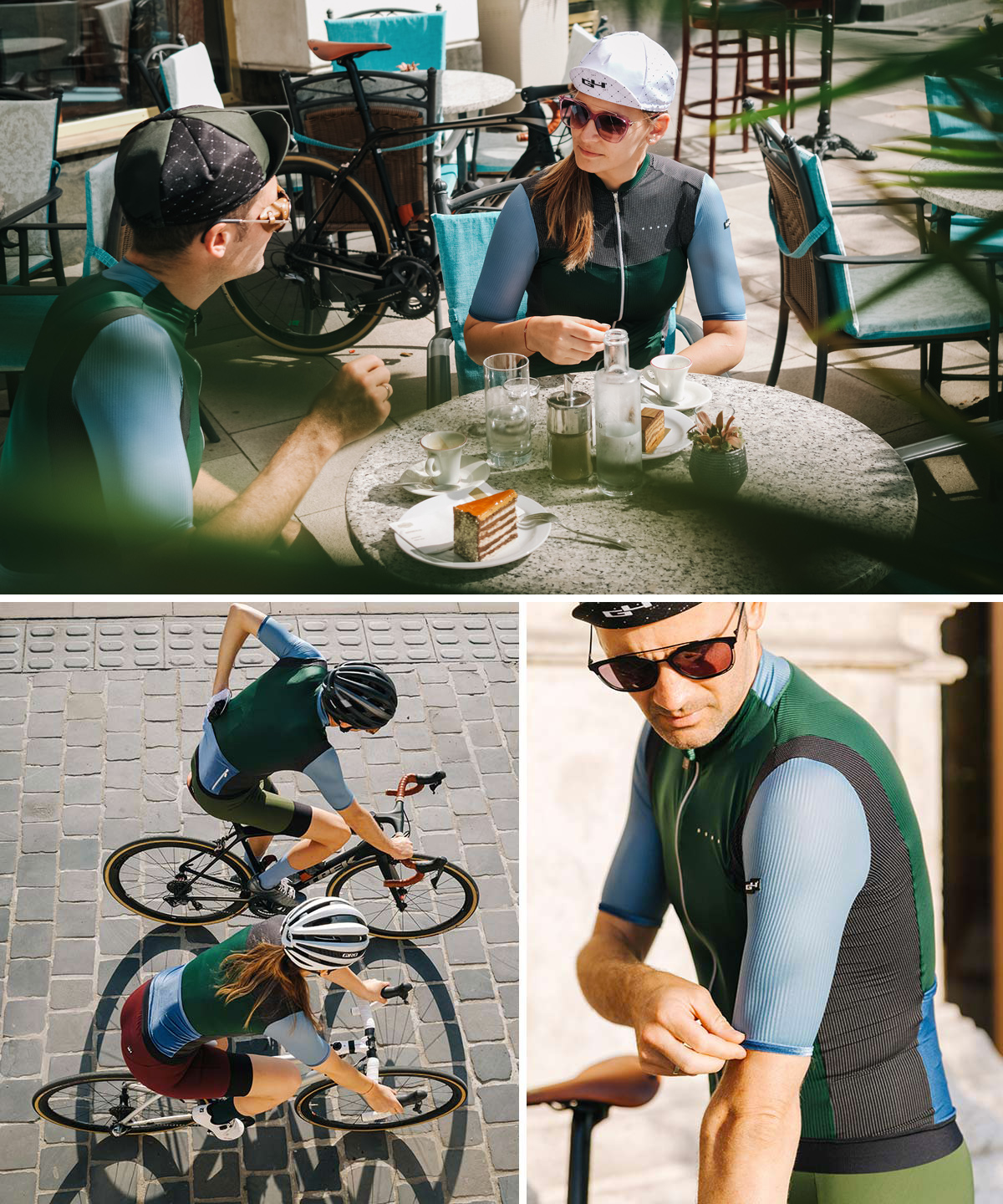 THE TREND OF STRUCTURED FABRICS AND VELVET
Rétro has been created to the last detail to offer you a unique cycling outfit!
Structured fabrics, a pattern that has become timeless through time: the lines!
This fabric has straight lines on the front and back of the cycling jersey as well as the sleeves that make it even more elegant and graceful. Plus, G4 has added a great new feature to the cycling world: velour! This incredibly soft and chic fabric can be found in the back pockets for a perfect match!
The women's cycling suit is slightly different because of the polka dot fabric on the chest, which is present on the men's sides.
A FORMIDABLE TECHNICALITY
The Retro cycling jersey features the ultra-soft and lightweight Sensitiveline technical fabric, providing maximum lightness for the sunniest rides of the summer. For optimal freedom of movement we added an essential touch: StretchDot fabric on the sides!
Find the incredibly soft and strechy
sport velvet
fabric to cover the back pockets and the sleeve trims!
A new technicality The cycling shorts are our new natural green cycling shorts for men and sumptuous burgundy cycling shorts for women, both created with a Powergain compression fabric and Lycra®Sport technical fiber, which is highly appreciated for its comfort and lightness.
Their centerpiece is G4's PROHD100 pad, which is what makes these technical shorts so comfortable!
Thanks to this comfort that G4 has the secret, you will not see your outings on the bike in the same way and it will push you to love the hours of saddle!