The G4 Cycling Club was created a year ago now by Geoffroy Lequatre and his G4 team. With the goal of creating a whole cycling community around the world sharing the same passion: that of cycling. In this club, no matter your field of predilection, your age, or your geographical location, it is colors and the same state of mind that unites us.
YOUR CYCLING CLUB ACCOMPANIES YOU
Share with us your attitude, your story, and bring the G4 colors to the other side of the planet.
Our club members and cycling enthusiasts come from all over the world and that's what makes this community club so strong. As a result, some of them have never seen each other but they feel connected by a unique passion and share their cycling experiences, tips and secrets virtually. This is what a community is all about, and we are extremely proud of it!
SHARE UNIQUE MOMENTS
The Cycling Club is also a unique experience! Until the health crisis, many cycling outings on the roads of the French Riviera with our exceptional professionals were organized, as well as participation in major cycling events in France. Friendly moments, rich in good moods and unforgettable memories!
Sharing moments with our professionals also means discovering their routes, their secrets and technical advice, it is to be inspired by their experiences and to be enriched in cycling knowledge.
We hope to resume these outings very soon and push our limits even further in order to relive unique moments rich in emotions.
A CLUB ? BENEFITS!
But there are also and above all advantages at G4! Indeed, depending on the membership package you choose, many privileges are available to you: a membership card, an official G4 cycling outfit in the club's colors and identifiable worldwide, but also discounts and exclusives.
Live at the heart of our G4 brand and access unique privileges!
The choice is yours:
CLASSIC PACK (139€ / year) : Member card and pair of socks Attitude
PUNCHER PACK (220€ / year) : Member card, cycling jersey and pair of socks Attitude
ALL ROUNDER PACK (349€ / year) : Member card, cycling jersey, cycling shorts and pair of socks Attitude
For each pack subscribed it is a permanent reduction of -10% throughout the year on our site, excluding current promotions.
But there are also exclusive cycling collections limited to the club. And you have access to the new collections, sales and private sales in preview.
To finish, you will have special offers throughout the year as well as personalized newsletters.
As a member of the Attitude Cycling Club, you have access to our Club Special Private Sales: from January 13 to 20, 2021! These Private Sales offer you great discounts on your favorite cycling items as well as discounts on our new technical collection! So let yourself be tempted!
A LARGE COMMUNITY
Also join our private Facebook group to share group cycling discussions by meeting other members of your community.
And finally, use the hashtag #WEWEARG4 on all your social networks to follow the club's news. Share your most beautiful photos wearing our G4 cycling outfits!
Let's be united and share unique moments together via this virtual club even miles away! That's what a real community is all about, and G4 thanks you for that!
Share and ride with attitude at G4 Cycling Club!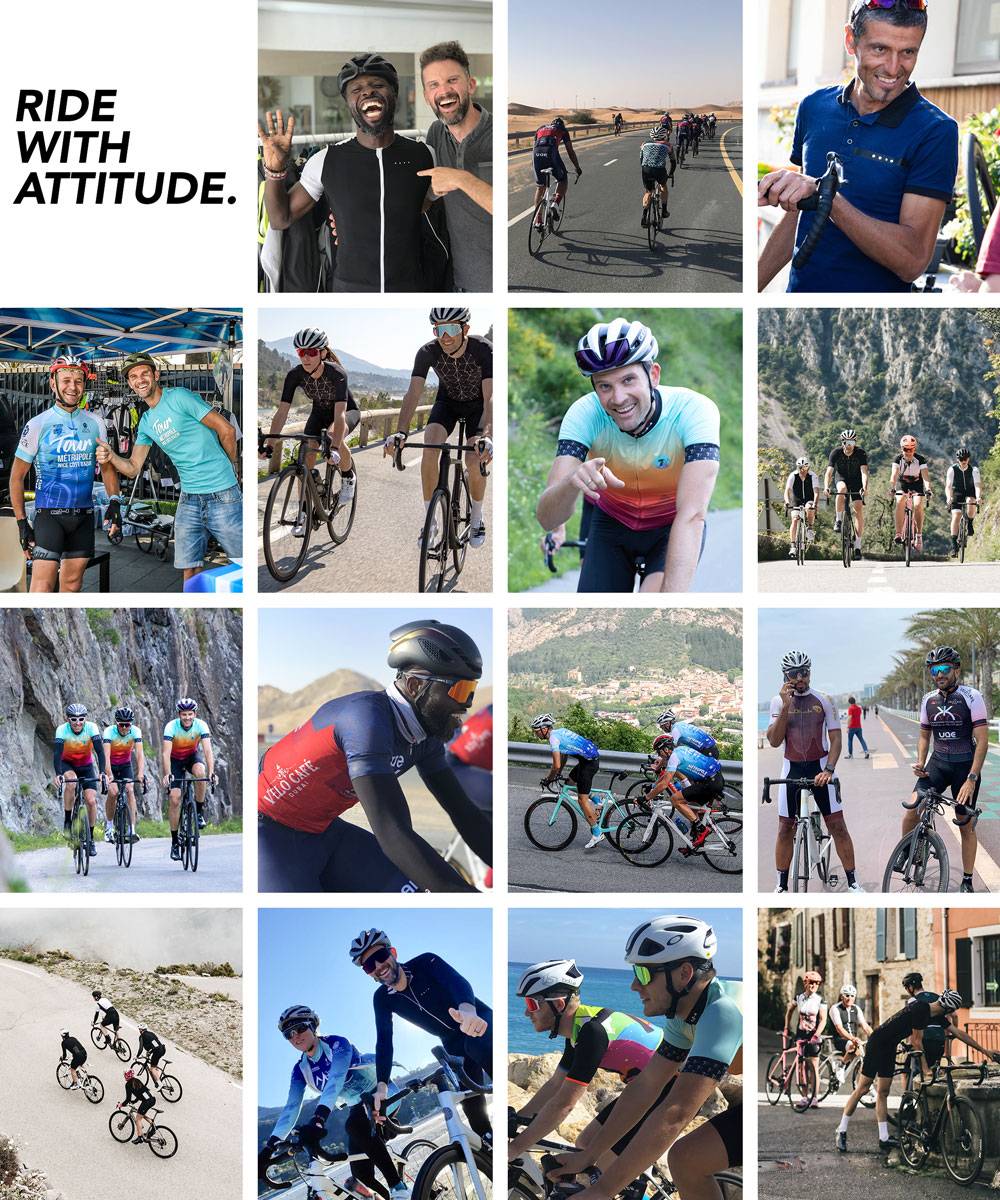 Team G4