Valentine's Day is the perfect time to give your cycling enthusiast a gift that will help them enjoy their passion even more, whether they share it with you or not. There are many options for bike lovers. Here are some ideas to make him or her happy for sure:
Solo or duo outfits
Cycling apparel is one of the most popular gifts for bike lovers. G4 offers stylish and high performance cycling apparel for men and women, all created by a former professional cyclist who is now a designer.
The G4 outfits are mostly unisex and designed for both men and women to match each other on the bike! Nothing is more romantic than offering a cycling outfit that matches your other half for Valentine's Day, here are 5 ideas of outfits to wear as a couple:

1° A winter cycling jacket with matching colors that go perfectly together.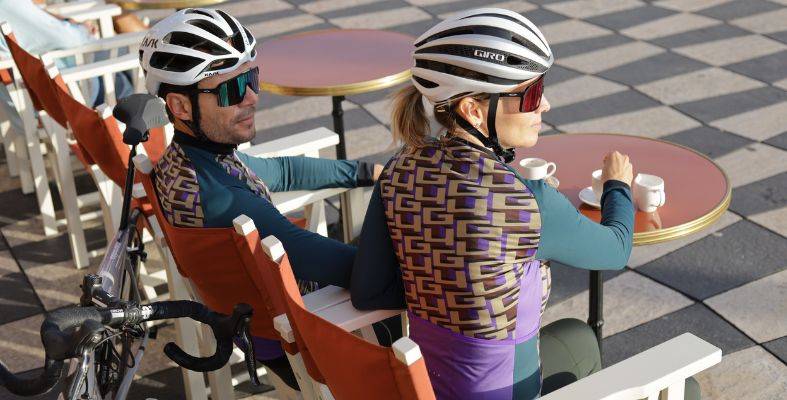 2° A unisex cycling jersey in green and purple colors for a look that unites you.

3° The total look matched with the oxygen suit designed for women and for men with the famous PROHD100 skin, optimal comfort even on long distances.
4° A cycling outfit inspired by the natural element, fire, with flamboyant colors, to be worn alone or with a partner.
5° An identical black and white cycling jersey for women and men associated with a cycling shorts with opposite colors, black for women and white for men. An elegant and refined cycling outfit to wear without moderation.
Cycling gear
To fuel your partner's passion, you can also offer him equipment and accessories related to the cycling discipline that will please him.
A saddle bag or frame bag for bicycle: practical and essential to carry things during bike rides without carrying anything on your person.
1 : Small saddle bag to carry the essentials like the first aid kit.
2 : Pouch with smartphone slot, ideal to follow your GPS application.
3 : Practical and functional frame bag for long distance cycling.
A water bottle holder and the water bottle that goes with it! Always useful for cycling trips or training
A bike computer or GPS helps avid cyclists track their progress and plan their next cycling adventure. Garmin is a well-known brand for its GPS meters with mapping for bikes.
A bike camera, give a bike camera like a GoPro to capture the most unforgettable moments of your bike rides. Couples can even create souvenir videos of their cycling adventures together.
Cycling gear, like a nice bike helmet selected from the best helmet brands like Giro, Kask or HJC.
Designer bike glasses from brands like Oakley, POC, or Bollé. A gift that will please both the amateur and the expert cyclist, always useful during a bike ride.
Cycling experiences
Give your cycling partner an unforgettable moment and experiences related to their passion for cycling.
Organized cycling trips: Offer your partner an organized cycling trip in a beautiful region for an unforgettable day.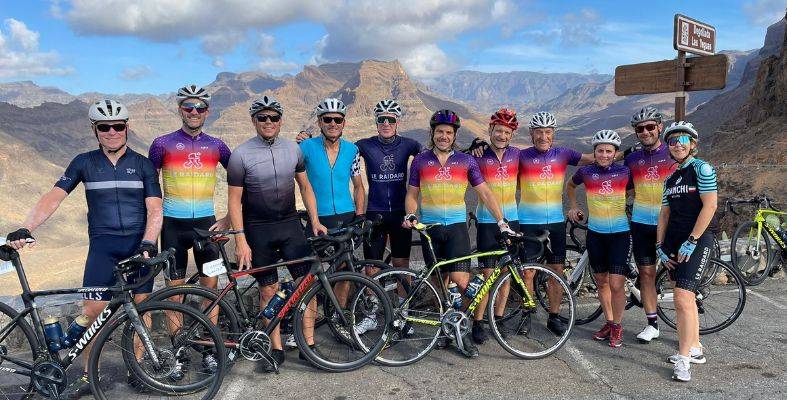 Bike trips: For couples who love to bike, offer a bike trip to a mountainous region or a national park for an unforgettable experience. You can even opt for an organized bike trip for a more comfortable and stress-free experience. G4 Travel organizes organized bike trips in partnership with Le Raidard on which Geoffroy Lequatre, founder of the G4 brand and former pro cyclist, accompanies you throughout the trip and shares his advice and pro experience while having fun.
A one-year membership to a cycling club: many cycling clubs such as the Attitude Cycling Club offer many advantages, discounts on cycling clothes and accessories all year round, privileges on organized trips, meetings with other club members and organized weekend cycling trips. A club membership is a great gift for a cycling enthusiast.
Bike repair workshops: For the do-it-yourself bike enthusiast, offer bike repair workshops to help them learn how to fix their bike if it breaks down.
Other gifts you might think of for an avid cyclist:
Books about cycling: books about the history of cycling, the best bike routes, tips for effective training, etc. can help cycling fans improve their knowledge and passion for the sport: Cols de légende, La Bible du Cyclisme, Sommets Mythiques…

A subscription to a cycling magazine: for passionate cycling fans, a subscription to a cycling magazine can be a great way to stay informed about the latest trends, training tips and inspiring stories in the cycling world: Le Cycle, Vélo Mag, Top Vélo, 200 le magazine…
A voucher for food supplements: a sports and cycling fan likes to take care of themselves and their health. Food supplements can help them reach their fitness goals faster by providing additional energy useful during cycling training.
Massage sessions for athletes: Cyclists can suffer from muscle soreness after a long day of cycling. Offer a massage session for athletes to relieve those aches and pains and help recover faster.
Hopefully this has given you some gift ideas for you or your cycling partner!