In its new section "Routes" G4 unveils Pro bike training rides, popular routes and, of course, some of its good secret addresses. Our goal is to pay tribute to the Côte d'Azur, a place which welcomes cyclists of all abilities and from around the globe, and invite them to join our G4 community. Today, we start with a typical coffee ride. A route that traverses the splendid roads of Cap d'Antibes and will delight cyclists in search of an easy training ride.
Whether you live here, or are here on holiday with family and friends and your bike, we offer up one of our regular rides around Cap d'Antibes. Well-known by all the cyclists in the area, our ride starts in the port of Saint-Laurent-du-Var, close to the airport. How long will it take you? Well, that depends on your level of ability but around 1h10min / 1h30min.We head alongside the sea on one of the area's many cycle paths along the Cagnes-sur-Mer Promenade where the cyclists mingle with roller skaters, joggers, children and grandparents. Watch out and take care!
Once you pass the Cagnes-sur-Mer race course, one of the most beautiful in France, next up is the famous architectural buildings in Villeneuve-Loubet Marina. You are on now the famous seaside road to Antibes. The traffic in the summer season is very heavy but there's a cycle path which will take you to the Fort Carre at the entrance to the port of Antibes.
Our ride takes you up onto the ramparts of the old town of Antibes. You pass by the Picasso Museum on your right with a view of the Bay of the Cap d'Antibes on your left, an opportunity to take some wonderful photos. For your first stop, we recommend the welcoming l'Ilette Bakery which is popular with cyclists. You'll find it at 28 Boulevard Maréchal Leclerc, in Antibes. You won't be disappointed with its keenly priced sweet and savoury baked goodies, great coffee and service before you undertake a tour of Cap d'Antibes.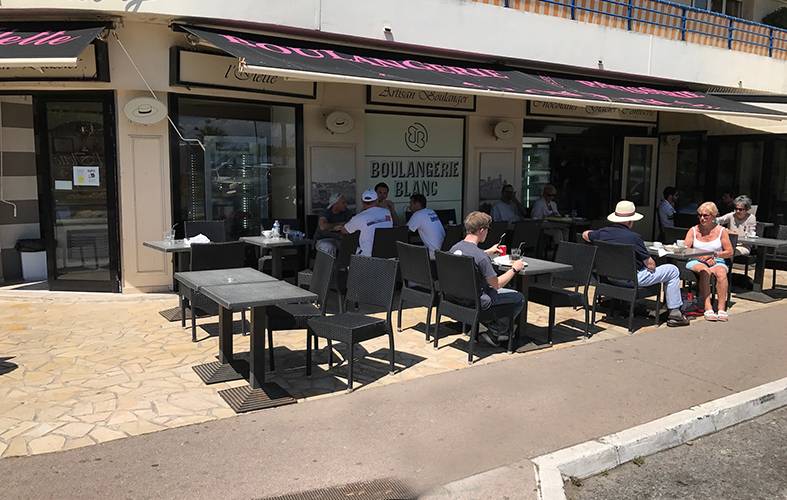 From the roundabout, follow the sea towards Salis Beach, a lovely spot for tourists and holidaymakers, but also for the rest of us in the off-season. If you missed the first coffee stop, a few kilometres along on Cap d'Antibes, on the boulevard de la Garoupe, you'll find another popular spot where summer and winter you can enjoy a coffee beside the sea at Le Rocher. The coffee's good, a bit pricier, but it's worth it for the view; a magnificent panorama of the turquoise water of the Baie des Anges, which in winter had snow-capped peaks as its backdrop. In short, a coffee stop beside the sea par excellence.
We continue our ride around Cap d'Antibes passing by spectacular villas and hotels such as the Eden Roc. Places well known to local cyclists, tourists and celebrities but also, in the off-season, the professional cyclists who call the area home. This road that runs along the sea front has numerous small sandy coves. Coming back through the old town of Antibes, there's its famous covered Provençal Market where you'll find local produce, herbs and spices to cook recipes from the region.
Lastly, our final address on this tour, the Passe-temps coffee shop, handily located with a wonderful sea view, near to the Antibes Archaeology Museum, where you'll find a smiling hostess and another warm welcome. This is another of our favourite pit-stops. We're now riding in the opposite direction along the same roads towards Nice with a sublime view of the Baie des Anges, where the sea meets the sky.
If you've time and inclination for another stop, we can also recommend the Circus Cafe at the Marina where a very welcoming Franco-Brazilian couple serve an excellent coffee for just 1.60 €.
If you have a little more time to spend, can we suggest you investigate the newly refurbished port of Saint-Laurent-du-Var where restaurants and bars can be found alongside the moored boats and yachts. Here you'll find plenty of spots to enjoy another coffee, a bite to eat or maybe just relax with a well-deserved beer after your ride. We finish our ride a little further along on the beach terrace of the Bay Star.
Find details of this route on our Strava profile: www.strava.com/activities/995895985/segments/24393285123
The Côte d'Azur is famous for the quality of its light, its glamour and wonderful atmosphere that seduces everyone who visits it. With your bike, experience its mythical roads, addresses and hitherto unknown spots with the skilful and expert guidance of G4 to make the most of your cycling adventure.
Our next episode in this series will cover a wholly female ride organised by G4.