Be the most stylish person on your bike this year by taking inspiration from the trends seen on the fashion shows. What are the hottest colors? How do you dress on your bike to be on the cutting edge of fashion and style?
Many trends stood out, bright colors, 90's inspiration, minimalism and sobriety… Zoom on the new trends to follow to be on top for the new season.
What are the colors to wear in spring?
This year the trend is pop colors closely inspired by the 90s. Fashion is an eternal restart and in fact, fashion outfits with vintage aspects are very popular, even among cyclists! The advantage of these sparkling colors is that they will allow you, in addition to being 100% trendy, to be easily visible on the road. Wearing color has the power to brighten faces as much as it boosts confidence, it rejuvenates looks and makes them more modern, so dare!
Shades of green
From the darker fir green to the timeless khaki to the almost fluorescent lime green, green appears in all its forms. Chic and elegant, green is the trendy color for spring (see neon long sleeve cycling jersey, see retro short sleeve cycling jersey).
The bold purple
Whether it is pronounced or softer, lilac color, purple was seen on the biggest models during Fashion Week. This color suits many skin types and can be easily paired to create interesting combinations. Often used to create bold and eye-catching looks, it makes you stand out in life as well as on the bike (see purple mid-season cycling jersey).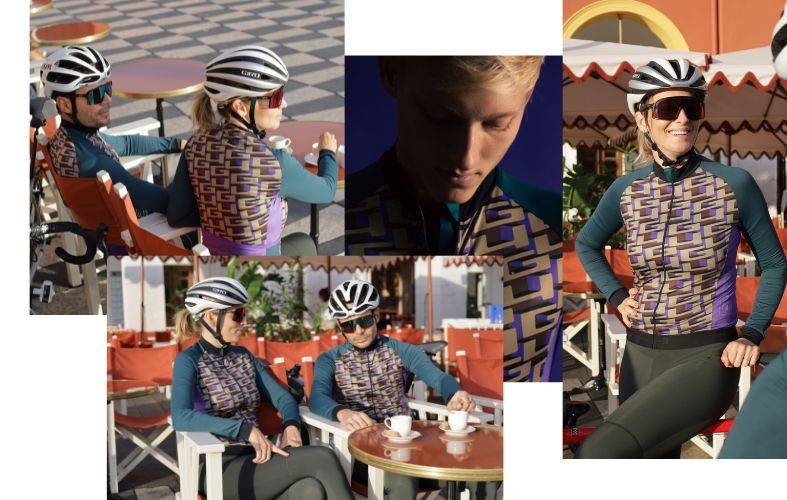 Pink in all its variations
From a very bright shade to a rather pastel pink, pink can be worn in any way and without moderation (see pink long-sleeved shirt).

The baby blue
We can never get enough of this soft color that makes us think of sunny days. In every season where spring and summer come, blue is a color that will always make a good impression (see blue cycling jersey).
The black total look
Of course, spring or not, the total black look has not said its last word. Black is always a safe bet that ensures a sexy and rock look at the same time. A timeless look that has not stopped working (see black cycling jersey).
Bright orange
A complexion brightener, orange is being worn brightly this year, take it on as a total look or sprinkle it here and there in your outfit (see bright orange bike shorts).
The metallic trend
We see it everywhere! On accessories to add that little touch of bling to your outfit and give a sophisticated edge to your look. Or on stronger pieces like silver jackets.
The minimalist
Minimalist and clean designs are becoming increasingly popular, whether in ready-to-wear or cycling apparel, with a preference for discreet logos and solid colors.
Find all the ultra-trendy spring-summer cycling outfits and ideas at g4.dimension.com as well as on Instagram and Facebook.