For our second article in view of the preparation for l'Étape du Tour, we wanted to bring you a feminine look! As you know, women have the same importance as men at G4; our collections are all available for you ladies and we would like to help you with your Tour Stage preparation as well.
In this story, you will discover Griet, a cyclist of "the extreme" so to speak! She started cycling in 2013 and continues to participate in ever more demanding challenges. Here is his story and his way of approaching a Tour Stage preparation.
The Griet cycling Start
I am a fourty year old marine scientist from Belgium with a passion for road cycling. Cycling became a more serious hobby in 2013, when I was living in San Diego (California). With its year round mild weather, great roads, rolling hills, and stunning scenery, this can be considered America's cycling paradise. I bought a Trek Madone and joined the San Diego Bicycle Club for their weekly Saturday morning rides. Soon enough I started cycling twice a week, training for California's top cycling challenges such as the Mulholland Challenge, Breathless Agony, the San Diego Giro, Paso Robles Century, and climbing Mount Baldy and Mount Laguna.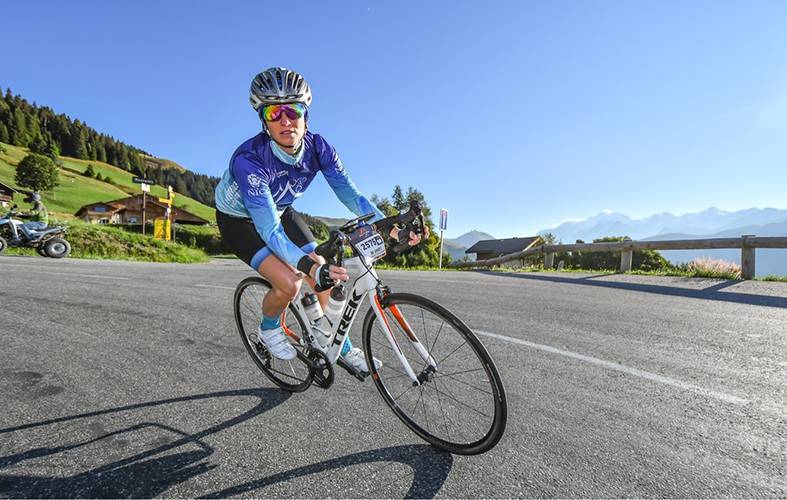 Côte d'Azur Discovery
But in 2014 I moved to Québec, which is no place for cyclists really, mostly due to its harsh and lengthy winters. Luckily, I had a flexible supervisor who allowed me to pass three months of the Quebecois winter in a marine laboratory on the French Riviera. Based in Villefranche-sur-Mer, I was delighted to discover the stunning cycling terrain and the magnificent beauty of the Côte d'Azur and the Maritime Alps, wrapped in a quasi-eternal blue sky, dotted with picturesque medieval villages, and olive and citrus trees. Jaw-dropping natural beauty, all around! I was so enchanted by my new work and living environment that I decided to shoot for a job there. It worked! I moved in 2017 for a temporary contract and now hold a permanent research position.
Metropole Cycling Club
I joined the friendly cycling club "Metropôle Nice Côte d'Azur Sports (MNCAS)" (https://www.metropolenicecotedazursports.com/), beautifully outfitted by G4. The Nice area truly is a cyclist's heaven and my annual kilometers have ramped up to 9000 in 2018 and 2019 with elevation gains of over 170 000m. Cycling challenges galore in the area, such as Paris-Nice, La Vençoise, MercanTour Turini, Bonette, Madone, grouped in the Challenge Cyclosportif 06 (5th female scratch in 2018). I have also completed several multistage races such as Explore Corsica (3rd female Green Jersey), La Haute Route Alps 2018/2019, and The Ride Dolomites. All of it on my Trek Domane SLR7.
But hunting down a place on the podium is not at all what drives me. For me, cycling is a way to explore our beautiful planet, propelling oneself through gorgeous scenery, where smooth circles make great smiles. It's about meeting people with a common passion, challenging oneself, building character and stamina, boosting joy and confidence, and aerating the mind with every pedal stroke.
Étape du Tour preparation : Planning
So now, we have l'étape du Tour on our plate on July the 5th, 177km and 3570m D+. With less than 700km ridden in the past five months (due to an operation and travel), it is pretty much like starting cycling training from scratch. But the next four months should be enough time to get in shape. I don't have a detailed training plan but my overall training strategy will be to gradually increase the training load, so that my rides start to match more and more the distance and D+ of l'étape du Tour by July. I will do this by building the weekly volume and elevation gain, and varying the intensity of my rides, based on my heart rate. I'll start easy with two rides per week in the first month, with a weekly total of about 100-170km. By the end of March, I should be able to ride the Nice Granfondo (March 29, 124km with 2300m D+). From April to June, I have set intermediate cycling goals, which keeps me motivated: another six granfondos in the Maritme Alps, the Mercantour, and Liguria, included in the "Challenge Granfondo Alpes-Maritimes".
June form July
At the beginning of June, I am participating in a seven-day cycling trip through the Dolomites with a group of friends from Belgium (Salzburg-Verona, totaling 870 km with 15000m D+). In principle, this should give me strong legs for the Fausto Coppi granfondo, with 177km and 4125m D+ on June 28, and then hopefully also for l'étape du Tour one week later. Depending on how I feel, I may swap some grandfondos for mediofondos… I guess that would be my main training advice : feel your body and respect your limits, rest well (sleep is your best friend), and make sure you do really easy rides from time to time. And never underestimate the power of the mind : adopt a positive attitude and enjoy your rides and the company of your fellow riders! Don't forget to hydrate and to fuel your body before, during, and after each ride. Concerning nutrition, I personally don't like gels, and I much prefer to munch on my home-made energy bars. Here are some good recipes.
Complementary Activities
Those long rides can be pretty demanding on the body, and I regulary practice yoga which helps restore my alignment and release tension in my lower back, shoulders, and hips. Here are some yoga poses, specifically designed for cyclists : But yoga is so much more then stretching; it is about the powerful connection between movement and breath (perhaps you have also noticed this connection while you ride) and improving awareness of your body and mind.
I would love to see more women on the bike! The typical female participation rate to all the multi- and single-day races I have done in France and Italy are about 5 to 10%. Why so low ? Come on ladies ! Join us !
If you are interested, you can read more about my cycling challenges on my personal blog