Our premium cycling apparel brand G4 is very committed to women's cycling: for us women are as important as men. We actively participate in the empowerment of women in cycling and have created a campaign « She & G4 » dedicated to the importance of women in the world of cycling with many episodes where you can find our female ambassadors and read about their cycling adventures.
Bicycles are becoming the fashionable accessory, the sign of elegance. That's why we focus on style and trends.
In the past, women didn't have much choice for their cycling clothes, today at G4 we offer them a wide choice of outfits going through chic, modern and fashion!
G4 offers you, ladies, elegance in all circumstances, so make your choice!
CYCLING CLOTHES FOR WOMEN, THE FASHION TREND!
The bicycle is a tool of emancipation of the woman, indeed it helped the women since always to make a place in a "male" universe.
It has allowed women to free themselves from the judgment of society and mainly from their clothing constraints.
A little bit of history: it is thanks to the suffragettes at the beginning of the 20th century that women had the power to wear pants on their bikes.
Today, the bicycle remains a tool of liberation for women, it allows them to get away from sexist clichés. We are facing a change in the market where women are taking a more and more important place in the world of cycling.
More and more cycling events and competitions are taking place in favor of women. Nowadays, women's races are as recognized as men's races, with a fairness also in terms of prizes won.
The whole market and the bike industry and brands are looking at the development of women's bikes and also women's bike clothing. G4 is part of a fashionable trend in the high-end cycling world!  We create high end cycling clothes for women.
G4 COLLECTIONS FOR WOMEN
We have taken part in the creation of clothing adapted to women: trendy collections, with feminine cuts and designs, with a unique G4 style.
We bring a touch of femininity to our brand so that women can ride comfortably with quality clothing and unprecedented technicality. Added to the technicality, we offer them a beautiful look on their bike.
Here are our two new summer 2021 collections for women, Sauvage and Rétro!
Sauvage has been designed with safari prints and outstanding technicality for a sunny summer under high protection!
While Rétro, has a sporty chic side thanks to its velvet fabric on the pockets and sleeves. But also an ultimate elegance thanks to its vertical lines!
If you are looking for a more classic and ultra elegant outfit, we also offer the following cycling collections Luxe and Prestige ! 2 prestigious collections, with sober and sophisticated colors that will offer you a sporty but chic look on your bike!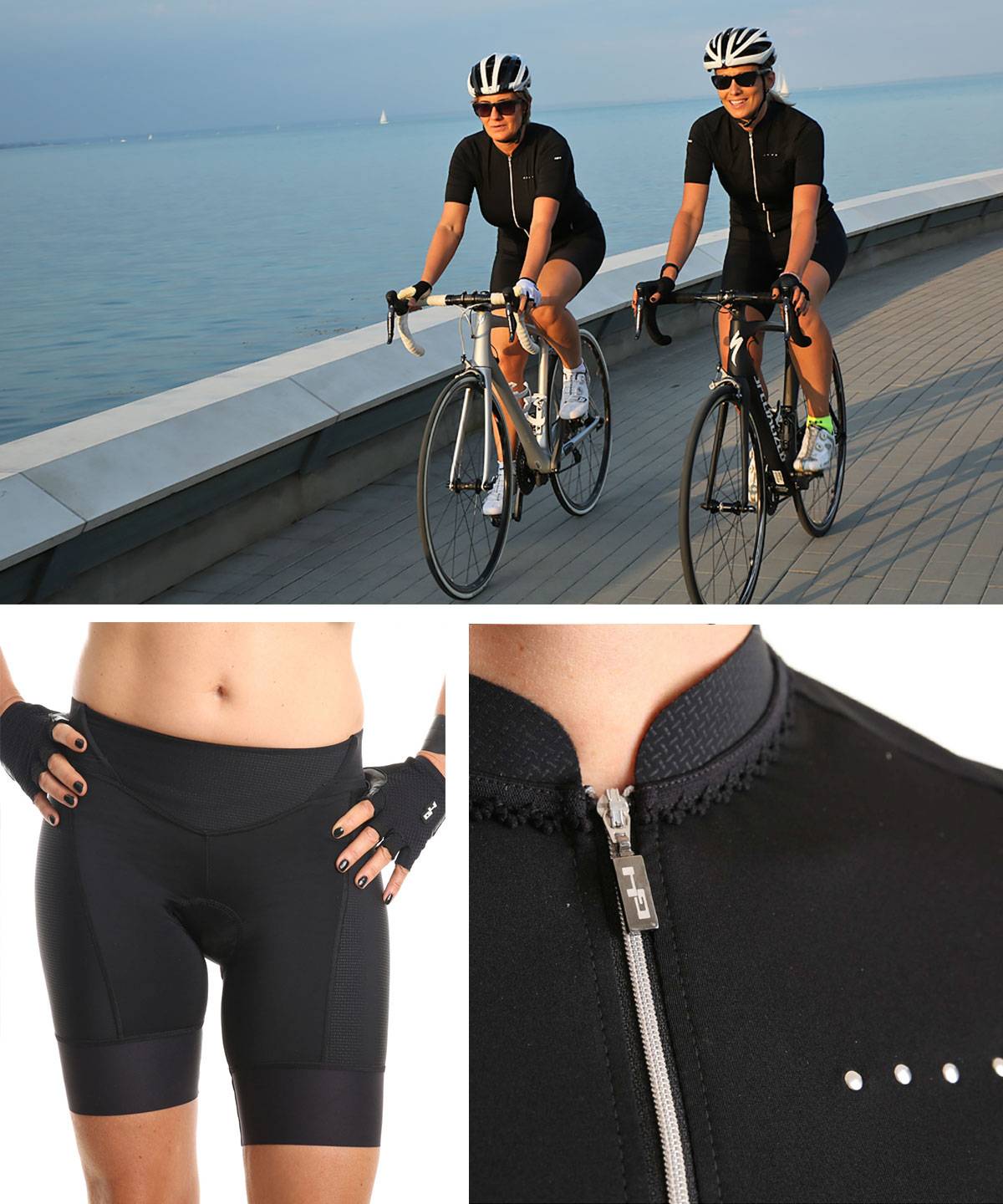 Women prefer to ride in women's clothing designed specifically for them rather than men's cuts. That's why in each of our women's collections you'll find cycling shorts designed to perfectly meet the expectations of ladies in terms of comfort and to make them look good on their bikes.
Our women's cycling shorts are adapted to the morphology of women who do not have the same needs as men, thanks to our PROHD100 pad, the masterpiece of our technical shorts. A pad especially for women!
INDISPENSABLE FEMININE ACCESSORIES!
Because it is important to be well equipped from head to toe, we have designed each woman accessory to be technical, efficient, and at the same time modern and elegant!
Freedom, equality, pedal!
The G4 Team