The current trend, more than performance and style on the bike, is safety! How do you equip your bike today to be safe on the bike and be seen by other road users?
Like every year, G4 innovates and creates new cycling collections. Yes, but today we are putting a special emphasis on one important and more than vital point; it is safety. G4 is now a pioneer in this development through new connected technologies that combine comfort, style and performance. Safety and comfort is a major focus of G4's new Fall Winter 2022 collection to protect the rider on the bike and provide good visibility on the road.
G4 guides you today and reveals all its cycling clothing tips to ride safely from other users on the road!
THE BEST SAFETY CYCLING JACKET IN THE WORLD
SAFETY CLOTHING FOR BICYCLES : LUMINOUS OPTICAL FIBERS
Safety on the road depends above all on the choice of clothing to wear during outings. Whether it is day or night, it is important to wear clothing that can be seen from a distance on the road: bright or reflective clothing.
First of all, the most visible and most important is a good and safe cycling jacket for winter!
For this we have the perfect cycling jacket and not least THE best cycling jacket on the market: our new A/W 21-22 E.Motion Green collection!
Why? Simply because thanks to its double light integrated in the back of the high-end jacket, the cyclist can be seen on the bike up to 3km away, day and night!
This new concept of light created by G4 can be powered by our external battery Power mini 2500 mAh with 3 light modes that lasts up to 24 hours, or by your own external battery with USB-A connection.
You will be seen from afar, whether by cars, other cyclists or pedestrians on the road, for a guaranteed safety!
All this in full comfort and aesthetics since this technical cycling jacket has been designed with elegant and windproof quilted fabrics on the outside and soft fleece on the inside.
The E.Motion cycling jacket will replace the famous safety vest we all know on the road, and will offer you in addition to its infallible visibility, a classy and distinguished look on the bike.
A cycling jacket also available for women!

SAFETY BICYCLE CLOTHING : REFLECTIVE FABRICS
Also choose our top-of-the-line Archange Silver cycling jacket, which is fully reflective on both the front and back to give you maximum visibility!
Thanks to its 3-in-1 concept, Archange Silver is a technical masterpiece!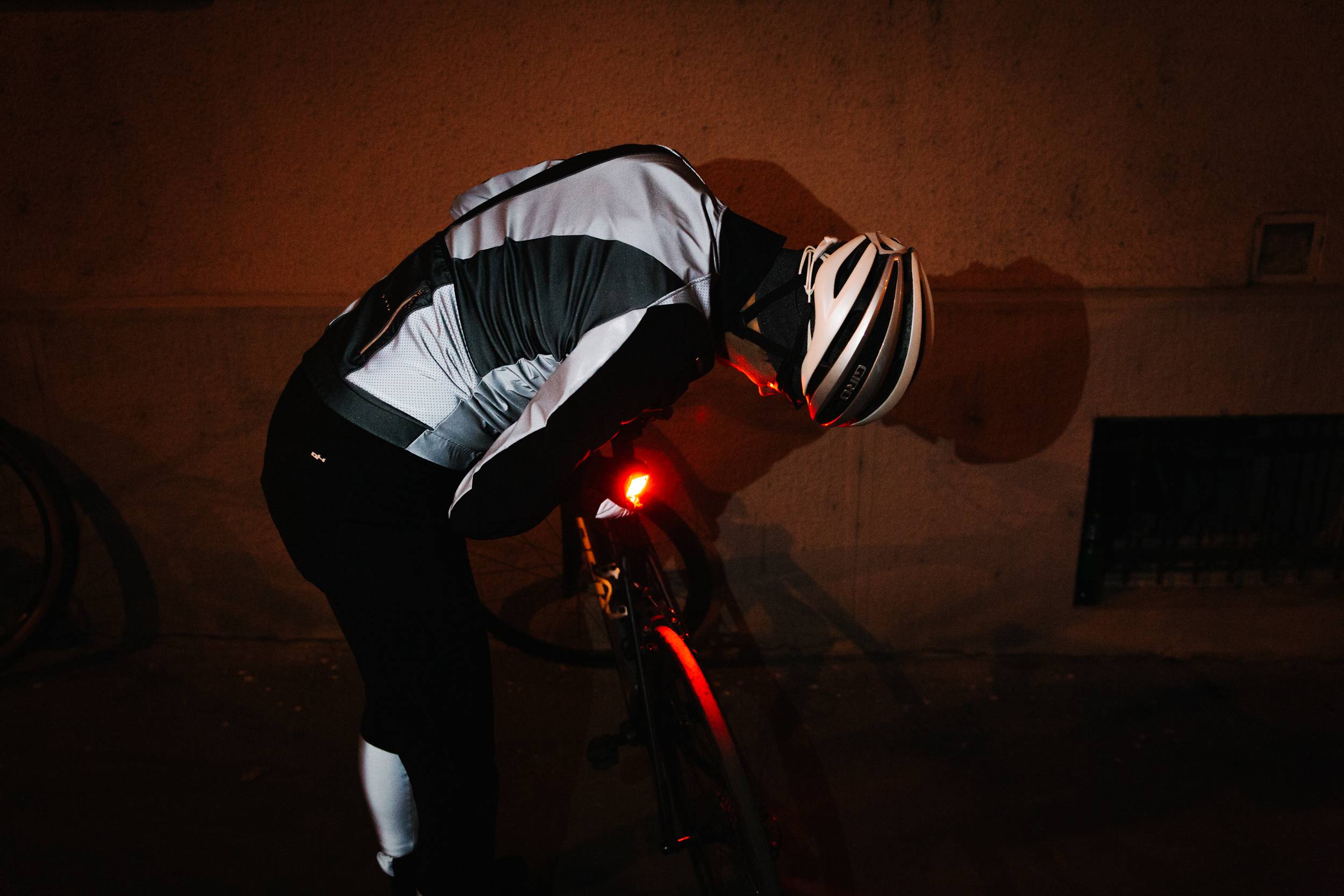 1) An outer windproof membrane 2) An inner vest 3) An integrated undershirt
In addition, with its 3 large pockets on the back, you can easily store all your stuff and supplies during your outings.
Nothing better to ride in protection, warmth and style during the winter, in all circumstances!
REFLECTIVE CYCLING BIB-TIGHTS
For a complete safety cycling outfit, wear your new safety cycling jacket with reflective technical bib-tights!
The STORM cycling bib-tights will be perfect in terms of visibility, protection and comfort. It has been designed with waterproof and thermal fabrics to face all possible winter weather.
Its reflective part in JRCREFLEX© will give the cyclist a very good visibility on the road and a sophisticated look!
Opt also for our pro cycling bib-tights Archange Pétrole for the luckiest ones because victim of its success, there are only a few pieces left. These tights are also available for women, and are specially designed with a feminine anatomical cut.
A long cycling bib-shorts fully reflective and covering thanks to its inserts and stretch reflective fabrics!
And of course ultra comfortable because like all our G4 shorts and tights they have our PROHD100 pad, a key part at G4.
A GOOD PAIR OF REFLECTIVE CYCLING GLOVES
Equipping yourself properly for cycling in safety and comfort also involves accessories, which should not be overlooked!
One essential element is the pair of gloves for cycling to protect you and cover your hands from cold and injuries.
For this, choose the pair of reflective leather gloves from G4, a pair of winter gloves perfectly designed to offer you softness inside thanks to its fleece fabric, protection and durability thanks to its leather in the palm of the hand and visibility thanks to its fully reflective part on the top.
For warmer outings or for mid-season, opt for the reflective mid-season gloves, anti-slip thanks to their grip and also stretch.
A REFLECTIVE WINTER CYCLING HEADBAND
For a complete cycling safety outfit don't forget the reflective headband to cover your ears and the top of your head.
A winter headband that fits perfectly under your helmet and will not cause you any irritation thanks to its exquisite comfort and softness.
Here you go, ready from head to toe to ride safely, comfortably and stylishly on the roads this Winter!
Don't neglect safe cycling apparel folks, the more visible you are on the road the safer you will be on the road!
The G4 Team