The last time we wrote about a completely different event, one that took place in Croatia: the 4 Islands MTB Stage Race 2017. Today, G4 takes you back to the Mediterranean for this latest cycling trip. We follow the Carqueiranne Club taking part in Explore Corsica !
EXPLORE CORSICA
As its name suggests, this event takes place on the most beautiful roads of Corsica: Cap Corse, the crystal-clear beaches of Porto-Vecchio, the hills of Bavella, a vital passage through southern Corsica, the Balagne and its perched villages, finishing with a ride into the Agriates desert. This Tour of Corsica is a unique concept which combines a sportif with a cycling vacation.
It's a great five-day adventure to experience with family or friends: 4 stages, 420 km in total, 7,500 meters of climbing. Participants are accompanied by several senior, professional road captains who mentor the participants, whatever their riding ability. The participants, in turn, greatly benefit from that wealth of experience.
Explore Corsica is an event organised by the Tour de France. So you have the chance to experience the same conditions as a professional athlete: the famous Skoda red race direction, secure roads, technical assistance, feed zones, security and medical services, timing, daily Tour de France, type rankings, technical and tactical advice, pre-race briefings, bike lectures, physio etc …
The CARQUEIRANNE TRIATHLON Club
We are back with the Carqueiranne Triathlon Club for this first edition of Explore Corsica organised by the Tour de France. They are demanding, experienced athletes and we thank them for choosing G4 for the creation of their custom team kit – a discerning clientele that wanted high-quality kit which performs under the toughest conditions.
Our friend Laurent is in charge of organising the kit for the team. He loves the beautiful material and for him the appearance of his team is the reflection of their ability to stick together. It is in this very friendly atmosphere that the Club leaves for its journey under the Corsican sun!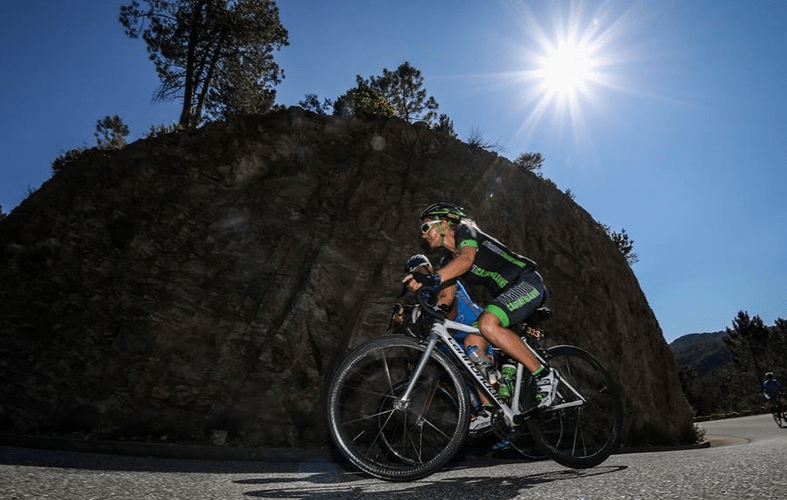 Christophe Jouffrey is the head of the Carqueiranne Triathlon Club. He wants to maintain the black and green colours of their Cannondale bikes in their new kit. Thanks to these fashionable colours, the Club has a very professional attitude and outlook.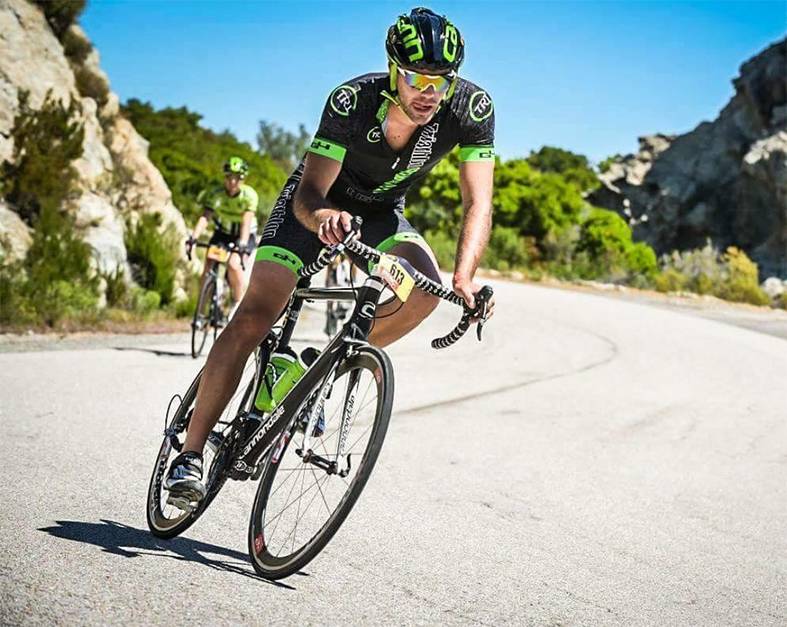 If you're a club, an event organiser, a company or an individual and you want to create your own unique clothing range, follow the example of Laurent and contact us. We'll ensure that you'll stand out from the crowd!
Laurent is not alone in using our tailor-made custom services. Other members of the club have also treated themselves to G4 clothing for reasons of comfort, quality and, of course, elegance.
The Carqueiranne Triathlon Club was the second largest club at this four-day event. G4 accompanied them throughout this uplifting race. Laurent left with his family and his friends who benefitted from their custom-made G4 kit on these magnificent Corsican roads. As for his wife, she was also able to ride in G4 clothing, from the Ethnic collection. We share this little behind the scenes video of the club's good-humoured preparation!
That's all for the third episode of our travel stories! We hope you enjoyed it, and look out for further episodes coming soon. ?