Nelli Szanto, our G4 ambassador, becomes soonly a mother, maybe her baby is already born during we write this article.
Nelli is a sports coach, so it was inconceivable for her to stop the sport during her pregnancy. We followed her throughout the nine months and she will reassure you … to be pregnant and sport, it is possible!
Pregnant sport – First trimester
« On Tuesday, January 15, 2019, my pregnancy test is positive. A week before, I had strange signs: my chest ached, I used all my free time to take a nap. I had an unbearable desire for orange juice. I spoke with Nori (my gynecologist, who I train for running!)
She confirmed these signs and she advised me to do a pregnancy test. The test was positive and I quickly told Cuco that, he will become a dad. We were really happy about it, but it was hard to believe what was happening to us. I felt also quicker tired and Cuco was seriously asking: "you're as pregnant as that ?!" … on the 31st of January, when we heard the first time the heartbeat of our baby, he realized that I was really pregnant!
During the first three months, I did not feel any difference in my ability to work, but on the other hand, I spent all my free time sleeping… I was announcing to some of my clients quickly my pregnancies. I did not want to overload myself with work either.
my days during the first months
My days were the same during the first quarter. The alarm clock sounded at 5.30 am, I had breakfast to start running at 7 o'clock. I usually run 10 kilometers with my clients. My route is often the same, in the woods, in the fresh air. I think it was positive for the baby! I took some drinks and food with me. After training, when I arrived home, I usually went to bed for a 40-minutes nap. I spent the afternoon planning the workouts for my athletes! I started my night latest at 10 pm (good night's sleep of about 8 hours).
I think this rhythm helped me not to feel nauseated during the first three months. I continued to run with my athletes, who I was able to follow, and I provided training plans to the others and for sure I contacted them regularly to hear their achievements.
After three months, I was beginning to reduce the intensity of workouts, not to become too tired. On average, I ran two-thirds less than before. During this time, I did between 6 and 12kms of running in a day depending, depends on my shape.
And about food?
I am quite satisfied. I was obsessed with tomatoes, compote, paws or plums … Nothing bad for your health. My pregnancy desires I was not able to control, but they were good desires. 😀
Pregnant sport – Second trimester
The second trimester was simpler. All my clients were finally aware of my pregnancies and they were very understanding. I had not as much sleep needed than before, I was happy about it. So I had more time for working at this pace without getting too tired. During sessions, my movements were slower and more difficult than before (make my laces for example).
On the 12th March, it was time to know the baby's sex and the state of his health and this development! We were very excited about going to this exam! Everything was fine and it seemed like the baby was a girl. We started to announce the news since my belly was really getting bigger! It is difficult to hide now. Then the contractions followed each other and everything went wonderfully well. The nurse was surprised by how my heart rate at rest is low. While I have 42 beats per minute at rest usually, being pregnant 56. Sport has helped me a lot during this pregnancy.
Less running, more bike
I had to manage the regular run without worrying about weight and more. I felt good, so I wanted to run. I walked 1,120 km in 30 weeks. Then I started to worry, so I stop running because my stomach was too big for running, but not as big that I stop my desire to ride a bike! On holiday with my parents and Cuco for example, I rode 80 kilometers. I was not riding at my usual pace, but a rhythm in which I did get too many vibrations. We stopped regularly to rest and I eat more than usual.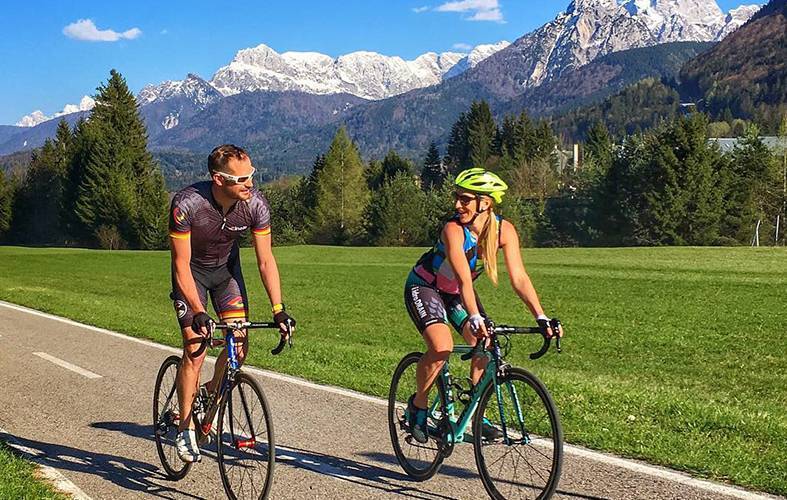 Thanks, G4 for cycling apparel
I was very well equipped to ride pregnant with G4! Strapless women's shorts are really perfect. Fabric that adapts to all morphologies, so it does not hug me too much. It made me felt good in my body! At the belly, there is no elastic, it is already very nice when you are not pregnant but it is even more appreciable once it is.
Pregnant sport – Third trimester
The sport sessions began to be more and more difficult! My weight of the belly was too important and my movements more limited. I did not want to take any chances for the baby. But the difference between the 1st, 2nd and third trimesters comes mainly from the weight of the belly and the mobility. It did not prevent me from attending sports sessions of my clients on the bench to give instructions!
About the sleep and the food, I began to sleep a lot again and cons I ate very little. The place in my belly was less and I was doing less physical effort and I had less need to eat too.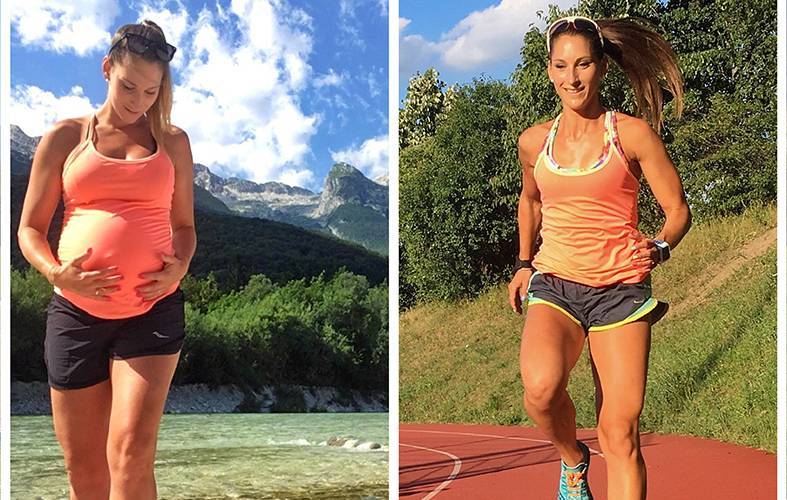 Now I am in the last week and it seems that time has stopped. I have not seen the weeks passed so far but now, I look forward to meet our daughter! ".