It's Halloween week, and so is G4! For the occasion, we are going to present you in details the black bike clothes from G4! Our black cycling collections and accessories!
A little reminder, for those who haven't seen it, G4 is organizing a special Halloween game this year!
We have hidden our GRIM Pumpkin somewhere on our Facebook page, Instagram, in our blogs, newsletters or on our website and it's up to you to find it to try to win G4 cycling accessories! You have until midnight on October 31 to play, so hurry up and try your luck!
BUT WHAT IS HALLOWEEN?
Halloween is a traditional folk and pagan festival celebrated each year on the evening of October 31, the day before All Saints' Day.
Why « Halloween »?
It is a contraction between "All Hallows-Even" which means "the day before all the saints".
Halloween is now celebrated all over the world and the common tradition is for children to dress up as scary characters such as monsters, ghosts, witches, vampires … and go ringing people's doors asking for candy with the famous phrase "Trick or treat? The evening mainly revolves around scary and funny elements as well as disguises imagined some months in advance! The main colors are black to represent fear, horror, and orange to remind the famous pumpkins.
BLACK: THE ELEGANT CYCLING COLOR PAR EXCELLENCE
On the other hand, outside of this mythical holiday, black is considered the color of elegance, classic, elitism, prestige and luxury. Class at all costs!
A color that goes with everything else and is easy to wear every day with every type of clothing.
Especially in the world of cycling we wear a lot of black, especially in winter!
THE BLACK CYCLING COLLECTIONS FROM G4
THE BLACK SUPREME CYCLING JACKETS
Supreme Black, Supreme Evolution, Flash: our 3 black cycling jackets are G4 best sellers!
Supreme Black is ideal for a soft winter, both windproof and waterproof it will protect you from all the elements!
Supreme Evolution has the same features as the previous one, but is lighter.
Both have been designed with a V-shape foundation at the back for optimal lumbar protection on the bike, as well as reflective details on the pockets and sleeves for your safety.
The Flash rain jacket is short-sleeved and has vents to facilitate the transfer of moisture to the outside. A technical cycling jacket ideal for rainy weather!
CYCLING IN THE RAIN: THE STORMLIGHT CYCLING JACKET
To equip yourself even better for the rain, also opt for the Stormlight bike rain jacket, our Rainsystem 2.0 concept. An ultimate technical evolution, for only 160g this ultra light bike jacket will protect you 100% from the rain!
Entirely black with reflective details, it is ultra stylish and will suit all your different fall and winter outfits.
ARCHANGE SILVER WINTER CYCLING COLLECTION
For a cool winter, G4 offers you its protective winter jacket against cold, rain, wind and dangers on the road: Archange Silver!
A perfect cycling jacket for winter thanks to its 3-in-1 design: a waterproof membrane on the outside, a chest protector on the inside to protect the torso, and an integrated undershirt on the back for perfect thermoregulation and breathability on the bike.
Sophisticated black combined with a reflective sidereal gray gives you a trendy and distinguished look in all circumstances with this winter cycling jacket!
Match your new black reflective cycling jacket with its Storm thermo cycling tights! Warm, comfortable, perfectly laser cut and sublimated by its reflective details!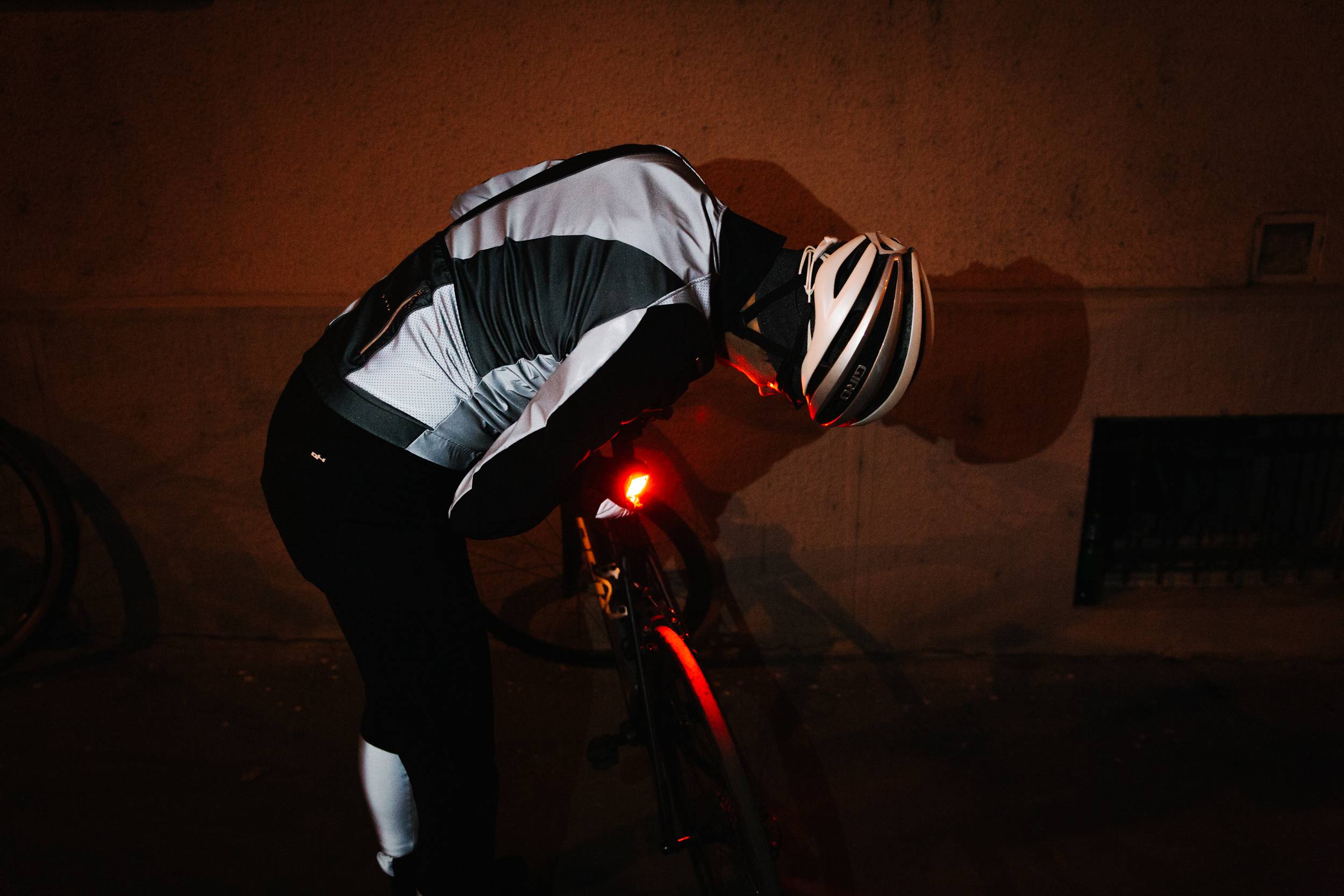 BLACK WINTER CYCLING BIB-TIGHTS
Black is also trendy at the bottom of the garment! Black cycling tights will be practical to match with all your winter cycling outfits! Black cycling bib-tights will go perfectly with a colored cycling jacket to break up the color, but also with a black technical cycling jacket for a total black look!
At G4 we offer two black winter cycling tights, the lighter Simply and the thicker Distinguished for a warm and comfortable winter!
THE BLACK LUXE BIKE OUTFIT
For the summer season or if your winter is rather warm, the Luxe cycling collection is all black and, hence the name, luxurious!
Luxe is a real technical feat with its innovative cut, highly ventilated membrane and the assembly of 6 high-tech fabrics.
The black Luxe cycling jersey is extremely lightweight and flexible to ensure optimal ventilation and wicking.
The black cycling bib-shorts offer an extraordinary sense of freedom thanks to the elastic recovery power, exceptional fit and freedom of movement. Plus, the PROHD100 chamois pad from G4 makes it inimitably comfortable!
A bike collection available for Men and Women!
BLACK CYCLING ACCESSORIES
To accessorize your black bike outfit, G4 also offers you its black winter accessories! And yes, style and technique are at your fingertips!
First of all, if the weather is not cold enough to wear full-body cycling tights, try our black cycling warmers! They'll keep you covered and provide softness and elegance.
Also wear black cycling shoe covers to keep your feet warm, but also black merino winter cycling socks!
A hat and/or a black headband to cover your head and for your hands, black winter cycling gloves are a must!
For a complete outfit, don't forget your nice black bike bottle!
Wear black, the international color of elegance and class!
And happy Halloween to all! 🎃
The G4 Team