Gravel cycling is a cycling discipline that combines the thrill of road cycling and mountain biking. When you venture out onto gravel roads and forest trails, it's essential to choose the right gear to ensure comfort, protection and style. G4 Dimension, a brand created by a former professional cyclist, guides you through the essentials of the perfect gravel gear.
The Gravel, a growing popularity
Gravel has become one of the most popular cycling disciplines in recent years. The perfect combination of road and mountain biking, it offers cyclists a versatile and adventurous experience. It allows cyclists to explore new horizons and get off the beaten track. This discipline is attracting more and more cyclists of all levels, from amateurs to enthusiasts, because of the freedom it offers and the possibility of discovering beautiful landscapes and varied routes. Whether you're looking for a solo adventure or prefer to join a group gravel event, choosing the right gear is essential for comfort and performance. Discover the secrets of the perfect Gravel gear below!
Choose your jersey for the Gravel
Technical materials and moisture wicking
When riding Gravel, it's essential to choose a jersey that's suitable for the changing conditions of this discipline. A lightweight, breathable jersey is the key to staying comfortable throughout your ride. Gravel roads and rough trails can lead to increased heat and perspiration. That's why it's crucial to choose a jersey made of high-quality technical materials with moisture-wicking properties.
A jersey that fits you well
A well-fitting jersey is also important to improve your aerodynamics and reduce drag, which can be beneficial when you reach high speeds on road sections. Be sure to choose a fit that's right for you, and look for jerseys with elastic or mesh panels for better freedom of movement and ventilation.
Convenient storage pockets
In addition, Gravel jerseys often have convenient pockets on the back. These pockets allow you to easily carry essentials such as energy bars, a phone or even keys.

By choosing a lightweight, breathable and functional jersey, you'll be well-equipped to face the challenges of Gravel while enjoying optimal comfort. See below what a jersey designed specifically for Gravel cyclists looks like, with high quality fabrics and attention to technical details and aesthetic design.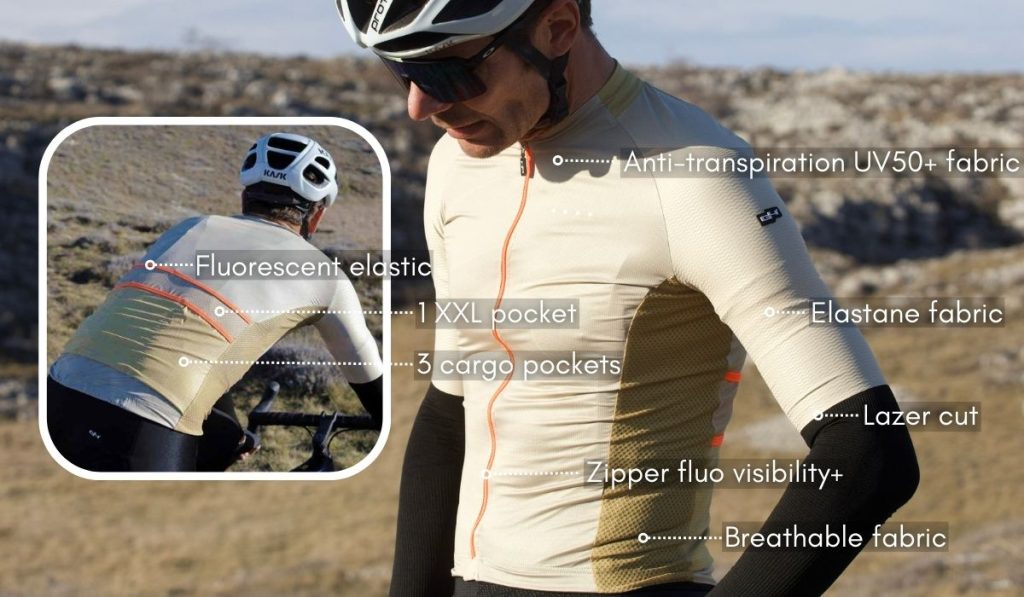 The shorts adapted to the Gravel
During your Gravel rides, you will be confronted with various terrains, sometimes rough. To avoid chafing and unpleasant pain, it is essential to choose shorts adapted to Gravel.
Premium chamois for cushioning & abrasion resistant materials
For maximum comfort, look for a cycling shorts with a premium seat insert, a seat insert specifically designed to absorb shock and reduce friction between your body and the saddle. It provides extra cushioning, which is especially important for long rides over rough terrain. Make sure the shorts are made of breathable and stretchy materials. High-quality technical fabrics allow for excellent moisture wicking, keeping your skin dry and reducing the risk of irritation. In addition, the stretchy materials offer optimal freedom of movement, allowing you to pedal without restraint. The fit of the shorts is also crucial to your comfort. Look for shorts that fit snugly, but not too tightly, to avoid excessive wrinkling of the fabric. Lightweight, breathable shoulder straps to support the shorts without compressing the chest.
The G4 brand has developed on its Gravel shorts a new ceramic technology, an ultra-resistant fabric, specially placed on the seat for a durability of the shorts in all weathers: discover the shorts.
Protective accessories for Gravel
When riding Gravel, it is essential to invest in appropriate protective clothing to ensure your safety and minimize the risk of injury.
Wear cuffs and leggings
Knee and leg pads are recommended for optimal protection. They protect your joints from impacts and scratches if you fall or hit obstacles, such as branches on the trail. Be sure to choose knee pads and sleeves specifically designed for cycling, which offer both adequate protection and comfort of movement.
Protect your head with a helmet
It is also essential to protect your head with a high quality bicycle helmet. The helmet should fit properly and be certified to ensure effective protection in case of a fall. Choose a lightweight, well-ventilated helmet that is suitable for gravel riding and offers both comfort and safety during your rides. Bollé offers a wide range of protective helmets specially designed for bike lovers!
Padded gloves to absorb vibrations
To reduce the impact of vibrations on your hands, it is essential to wear padded gloves. Gel or foam pads in the palm help reduce fatigue and discomfort caused by gravel cycling terrain. They allow you to maintain a firm grip on the handlebars while minimizing the risk of numbness or pain in your hands.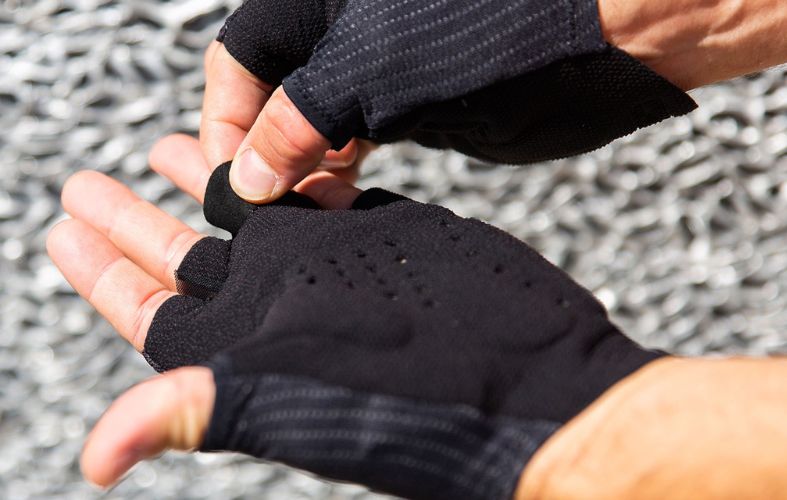 In summary, remember that Gravel riding is an exciting sport that allows you to explore new horizons on your bike. Make sure you're well prepared, dressed appropriately and wearing the right gear to get the most out of every Gravel adventure. Are you ready to ride in style and comfort?